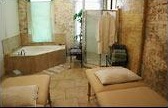 I am always in search of an excellent spa experience, and I was not disappointed when I visited Cynergy Day Spa in Brooklyn.  The store front is painted in gold and is very inviting.  I passed it a few times, curious before venturing in.  I am so glad that I did.  My facial was wonderful.  I was eager to make a second appointment.  Recently, owner Marsha Boyea took some time out of her busy schedule to talk to me about Cynergy.  Boyea is a licensed esthetician and massage therapist.  A native of St. Vincent, she has a delightful accent.  I enjoyed listening to her unique and refreshing take on beauty and why spa visits are really not a luxury.
RDD: I first want to say that I have thoroughly enjoyed my visits to Cynergy.  And I'm not the only one.  City Search has given you very positive reviews.  Being that there are so many spas offering all kinds of services, what makes Cynergy stand out?
Marsha: We go the extra mile.  Our value and service is consistent.  I believe it is important to set a standard and maintain it.  I believe in quality.  We are a black owned spa and we need to be better.
RDD: What would you say is your signature service?
Marsha: For massage, I would say our Back to Nature Massage.  It is a Swedish massage.  For facials, it is our Cynergy Deep Pore Cleanse.  It is a 115 minute facial.  We cleanse and do extractions.  Then there is our couples massage, City Search gave us "best" for that.  It is very popular.
Read more of my interview with Marsha Boyea…
RDD:  What made you decide to open a spa. What prompted you to choose this line of work?
Marsha: It was a total change in career.  I had always had an interest in skin care and decided it was time for a career change.  I wanted to see if I could take the courses.  The courses were six months.  Once I completed skin care, I decided to take the courses for massage.
RDD: Explain to our readers, why the need for professional skin care.  Why make the investment?
Marsha: They say that black don't crack, but we still need all the help we can get.  You need to get that deep cleaning.  Some women just use soap in their 20′s, 30′s, and 40′s, then in their 50′s they see something is wrong.  Professional skin care can help with that.  We have the education, training and products to understand what is going on with the skin.
RDD:  Aside from facials, are there other services that you recommend as maintenance?
Marsha:  Body scrubs.  It exfoliates the entire body.  I recommend that people do that at the change of season.  Also, showering with exfoliation gloves is also a help sloughing off old skin.
RDD:  More and more women are experiencing adult acne.  Should they only see a dermatologist or is professional skin care an option for them as well?
Marsha: Yes, of course.  Some dermatologist do not have an esthetician on staff.  They prescribe medications, but estheticians actually perform the cleansing.  We see faces everyday.  Some clients rush to a dermatologist.  We can tell them how to care for their skin and make recommendations.  Some times the recommendation is that they need to see a doctor.  However, much adult acne has to do with stress and hormones.
RDD: For those who may have never tried professional skin care, what would you like them to know?
Marsha: People used to think of spa visits as a luxury but it really is maintenance, looking after the body.  You spend a lot of money on foolish things, but you only get one body.  Invest it in you.
To visit the website, click here.
To read City Search Reviews on Cynergy, click here.