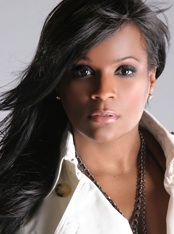 Tameka Raymond speaks on intra-racial hatred and standards of beauty in a recent article she wrote for The Huffington Post.  In her article, "She's Pretty for A Dark-Skinned Girl…" she talks about the perceptions and rejections that dark-skinned African American women have to face throughout their lives.  Unfortunately in 2009 skin color is still an issue for many. I'm sure some of you have heard this "compliment" if not directed at you, perhaps someone else.  It always amazes me that people actually have the nerve to say it and not understand how insulting it really is.    Here's an excerpt from the article:
"I am a dark-skinned African American woman with features that reflect my ancestry. Debates regarding Light vs. Dark and other biases have plagued our race for years and continues to impact millions of Black women. The deeply rooted intra-racial contempt that lies beneath this inane "compliment" is the reason I've chosen to spark dialogue surrounding the topic of self-hatred in our culture. It saturates every aspect of our lives, dominating the perspectives of our generation as a whole."
"It was said in the 1960s and the sentiment seems to be forgotten, "Black is Beautiful." Wow, nearly 50 years later and is that now only meant for a specific shade? Nonetheless, I believe the beauty of our people and splendor of every individual is reflected in our varying features and hues."
The color struck are being called out.  You can read the full article here.  Your thoughts?