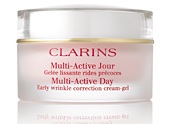 It wasn't too long ago that I would pass wrinkle prevention products by without a second thought.  The reality is that it is never too soon to prevent the signs of aging.  Let's face it, wrinkles happen.  So now that I'm on board with the idea of anti-aging products, it's time to search for the right one.  Just recently I was introduced to Clarins Multi Active Day-Early Wrinkle Correction Cream.  Clarins is known for their skin treatments and I usually think of them when it comes to sun protection.
The moisturizer is light, which I like.  I definitely noticed a difference in the way my skin felt and looked immediately after the first use.  I can't say that about all of the moisturizers that I've tried.   It absorbs quickly into the skin.  One thing I like about Clarins is their emphasis on skincare.  I had to ask if they actually sold make up.  They do.  I just find that interesting because usually I am buying make up and am told, "by the way, we have a skin care line."  When I've tried skin care products from those retailers, I usually end up with regrets and a break out.
This time around, I must say that I was impressed with the product and the Clarins philosophy.  Healthy skin should be foremost and not an afterthought. Check out a few of their lifestyle tips below:
· Beauty means sleep. Try to go to bed at a regular time, avoid stimulants like coffee after midday and keep your bedroom well-ventilated and cool.  If you're feeling particularly tired, go to bed as soon as your eyes start to close.
· Radiance comes from our diet… Eat a balanced diet that is high in vitamin-rich fruit and vegetables and avoid soft drinks.  Keep to three regular meals a day and don't snack if you can help it!
· Do you like sports? Good! Physical exercise keeps you fit and healthy. If you don't like sports, try walking yoga, weight-training or dancing.
· Well-being is about the air you breathe. Smoke less or even better, stop smoking. You'll see visible beauty benefits in just a few days and the benefits to your health are obvious.
· A good mood starts with a smile. Smile and people will smile back!
Other Clarins products to consider:
Cleansing Milk, $29.50
Water Purify One-Step Toner, $30