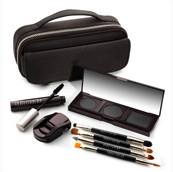 I love trying new looks and I'll be the first to admit that exploring new lip colors is easy.  There's something about changing your eye make up that can be challenging.  Liner, mascara, lashes, three shades, blend–it can be intimidating.  It's not always easy to find your look, let alone a classic look.  I must say that after a makeup artist demonstrated Laura Mercier's tight line technique on me, I only had one word: Wow!  To say I was impressed was an understatement.
The tight line gives your eyes depth and intensity that is subdued, classic and timeless.  It looks almost natural.  You've seen women (sometimes men) with lash lines that are naturally dark and you feel a tinge of envy when your eyes meet, but you can't help but stare?  Well, you might want to try this look.  To get this look you'll need Laura Mercier's Black Ebony eyeliner and Flat Line brush.
Dip the brush in clean water and brush onto eye liner pallete until a thin paste is formed on the tip of the brush.
Then, looking upward dab the point of the brush between the lower lashes of your upper eye lid, .  Be sure to dab lightly.  You do not want to draw a line. Work your way from the outer corner stopping short of the inner corner of your eyelid.
For added depth, dab eyeliner on to the lash line just above the roots of your upper lashes.
For a more dramatic look, follow with Laura Mercier's Caviar Eye liner. $22
Voila!  Go ahead, smile with your eyes!
If you really want to make an investment consider getting all 3 eyeliners, 8 brushes, mascara and eye lash curler for $125 or stick with the basic Black Ebony liner ($20) and Flat Line Brush ($29).  Available at Bloomingdales, Sephora and Blue Mercury.