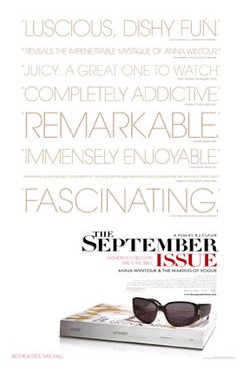 I was excited to see The September Issue, the documentary focused on the inner workings of Vogue magazine.  Like most, I also wanted to get a behind the scenes look at what really goes on in the offices and halls of a fashion magazine, especially the daily on the Vogues infamous editor-in-chief, Anna Wintour.  Some part of me wanted to know if she was truly like Meryl Streep's ferocious yet fierce character in The Devil Wears Prada (speculation is that the character was based on Wintour, if you haven't seen it you should pick up the DVD).   It was obvious to me that the filmmaker wanted to dispel that idea.
Still I must say, that I really enjoyed this film and I don't do documentaries often.  Understanding all that goes into creating a publication like Vogue and staying not just on top of what is going on, but staying ahead of it, is truly an amazing feat.  These people take fashion seriously, as we all should in our respective careers.  It was interesting to me to hear the stories of some of the other editors, learning how they entered the world of fashion.  Now one thing that did surprise me is that they didn't always seem so… fashionable.  Maybe I've seen one too many episode of Ugly Betty.  Yes they wore nice pieces and I'm sure comfort is a major concern, but really.  Some hair stylist don't keep their hair styled and so I guess those that dictate fashion trends don't always strike a pose.
I think they did a really good job at allowing us to see the "real" side of working at a magazine, it's not always glossy.  I do wish they had given us more background on Andre Leon Talley.  I would have loved to have learned more about his back story instead of his tennis game.  There's been a lot of buzz about this film and many mixed reviews.  I, for one, thought it was 90 minutes well spent.