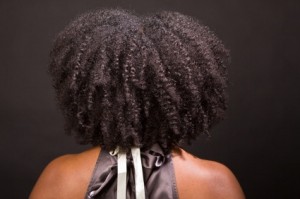 This past Sunday I woke up earlier than anyone should wake up on a Sunday morning.  As I flipped through the channels I happened to catch an interview with Chris Rock and Nia Long about the film Good Hair that was released in October.  I smiled as I listen to them talk about the joys and woes that women experience with their hair, because I have recently been through my own hair journey.  Yes, Rainy Day Diva finally went natural.  Oh, it's been a long time coming.
The day before seeing this interview for the second time, I sat in the salon chair and told my stylist, don't weave it, don't flat iron it.  Just let it do what it does (okay, that included some setting lotion and skill, but that's what we did).  For what seems like a lifetime, starting in my 'tween years, I'd been addicted to the lye.  Yes, that Bantu relaxer (at some point, I've had them all) every 8 weeks.  I'll admit that on a few occasions, I convinced my stylist I needed it sooner.  But the more settled I became in my adult years, I began to secretly envy women with natural hair.  Yep, while I was sitting their getting my french roll molded into form, I wondered what it would be like to be free of the drama that comes with the lye and embrace the truth, the natural me.
The problem for me was options.  One thing I knew for sure, looking like Florida Evans was not for me.  Good times?  I think not. Dreads? Uh-uh.  That Madame C.J. Walker hot press that used to be done by the one elderly woman in the shop?  Nuh-uh.  I was convinced I couldn't live without the lye and the burning, scabby scalp that it left behind.  So I continued with my crinkle curls, rods, straw sets and wraps wondering if I had the courage to cut it all off, since I was told that was the only way to make the transformation.  I'd had one stylist after another laugh at the notion of me wanting to give up the "creamy crack".  I was mocked, scoffed at and made to feel like natural hair and styling options was the black woman's mission impossible.  That is, unless I wanted to only wear braids or look like Florida, which doesn't go over well in the corridors of corporate America.

In 2007, I casually mentioned the idea of going natural to a stylist that didn't have a problem with it.  And so I began my journey to going natural without taking it all off, first.  It was not that hard, really.  My hair looked the same just without all of the don't scratch,  itch/burn drama that comes with a touch up.  The only problem I had was when I started to combine working out with my new found naturalness.  I'd go to work with every strand in place and after my lunchtime workout, I'd look like James Brown.  That's when I was introduced to, you guessed it: the weave.  Problem solved.  I was free to work out  and have hairstyle consistency.  I don't know about other people's reason for the sew in, be it rooted in low self-esteem or self-hatred, but for me it was really about having fun and getting healthy.  Oh, and fun did I have.  Long, silky, past the shoulder, down my back, short bob. I puzzled many and fooled a few.
So once I lost the weight and gained it back (that's another post) and was still rocking my purchased tresses, I decided to go for it: the natural look.  I must admit I was nervous.  I mean I hadn't seen my hair completely natural since elementary school.  I sat there amazed that my hair was not the limp, long strands I was used to, but big, bouncy and soft waves.  So today, my hair style would best be described as somewhere at the intersection of Foxy Brown (think Pam Grier) meets Mufasa and I love it.  Not that I didn't love all the styles I had loved before.  It's just my intention to remain lye free.  Will I still flat iron it? Yes.  Will I ever purchase tracks again? Maybe. Whatever I do, I am free to be me, without the lye.   I am….Foxy Mufasa.
So now I'm looking for products that will work with my natural texture.  Here's a few product lines that I'm interested in trying.  I've been watching you tube videos and all.  Let me know if you have other products that you recommend for natural hair.