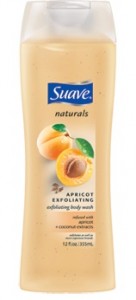 I don't know anyone who doesn't want beautiful skin.  Too often we focus on our faces, and neglect the health of our skin from the neck down.  To get glowing shoulders and legs that shimmer you have to work at it.  Exfoliation is key to healthy glowing skin.  Basically, exfoliation is the process of removing dead cells that naturally build up on the skin.  These skin cells give you skin that dull, dry look.  So it's important to help that shedding process along. Since maintaining a better skin care regimen is on my list of 2010 intentions, I was stoked to try Suave's Apricot Exfoliating Body Wash.  The scent is amazing and what I like most is that unlike a lot of exfoliating products, it wasn't harsh.  Exfoliation is not supposed to hurt or irritate the skin.   This is an excellent at home treatment and it costs just under $4.
Another way to get a thorough exfoliation, along with a little pampering and relaxation is by having a body polish.  Most spas offer this service.  A body polish exfoliates and hydrates the skin using salts, scrubs, oils and aromatherapy.  While it is relaxing and refreshing it is not a form of massage.  It is a service that concentrates on the health of your skin for your entire body.  The price varies depending on the spa.  It is definitely worth the investment if you can incorporate it into your budget.  Marsha Boyea of Cynergy day spa in Brooklyn recommends having a body polish at every change of season.
To read more on the importance of skin care click here, Cynergy Day Spa
Rainy Day Diva, The Blog received the above product from Suave.