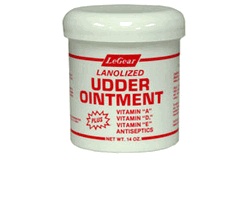 So you've seen the above image and I know what you're thinking.  But before you start laughing, I have to tell you the story behind how I became acquainted with this product.  No, I was not raised on a farm.  After hearing me complain about how winter weather wreaks havoc on my skin, a co-worker brought in a jar of this…Udder Ointment.  Now I had the same reaction as you.  I mean, what exactly was she trying to say?  I wanted nothing to do with this based on the name alone.  However after she prodded and reassured me that it wasn't a joke, I rubbed some on my thirsty hands.  Well, I don't think an hour had passed before I handed her some bills to purchase not one, but two jars of this stuff.
I've had several of you tell me that some of the products I review are not within your budget.  And being that we are in a recession and all, desperate times call for desperate measures.  I can tell you that this stuff works.  It is petrolatum and lanolin based with Vitamins A, D and E.  But if you're thinking you can get the same results with Vaseline, think again.  This beats Vaseline hands down. It is not greasy, mild scent, and I promise you, if you use it once, you may not need lotion for a few days.  In fact, you may forget what ash looked like.  It even soothes conditions such as eczema and psoriasis.  Seriously.  This is the reinforcement.  Now granted, its not sexy or cute, but it can help you get there at an affordable price (about $10 a jar).  And most importantly, it will get you what you want: healthy, well moisturized, soft, glowing skin.
Hey, I told you I would keep it real.