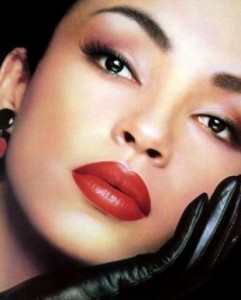 In just a few short weeks one of my favorite artists, Sade, will make her way back on the music scene.  Soldier Of Love will be released on February 9 and the single of the same name, already promises something fresh and new.  Not only do I miss Sade's music and sultry alto, but I also miss her style.  Always crisp, cool, and classy.  Her style was so simplistic, but packed so much appeal.  You always knew what you were going to get and you were always eager for a glimpse and mesmerized by the experience.  Her wardrobe: White Shirt, flowing skirt or cropped pant.  The hair: sleek chignon, ponytail or carefree.  Makeup:  Bold lip, soft, pretty shadows.
Sade was one of the few women to master smooth.  There were' no dance moves to master, no mantra to repeat or attitude to mimic.  There was just …cool.  A vibe that was Sade.  Two decades after her debut,  she still has us wanting to harness that effortless chic-Sade's signature style.
The good news is, Sade isn't the only one making a comeback.  According to Senior MAC artist, Fatima, lipstick is making a return as well.  She suggests using Prep+Prime under your lipstick as improvement to your look. "A well-painted lip looks so chic and sophisticated."   Personally, I kind of miss the bright corals and deep matted shades.  But if bright and matte are not your thing don't worry.  In Fine Beauty, Sam Fine reminds us that neutral lips don't have to be boring.  He offers the following tip: After applying lip pencil, apply a brown shade of lipstick, "making sure to avoid the middle section of your mouth."  Fine suggests following your lip liner with "a colored gloss in the middle of your lip to add a subtle shine. "
Makeup artist AJ Crimson offers a product pick for beautiful lips in his post, "Stained Red Lips"
For more on the perfect lip, click here.
Check out Sade's new video Soldier of Love, below.