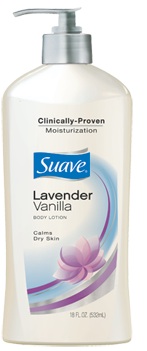 We are right smack in the middle of winter.  While all season's bring their beauty challenges, winter can wreak havoc on our skin.  While we hide under layers of clothes and warm blankets, this is no time to forget that if we want radiant, glowing skin, we still need to pamper and protect.  With that being said, I am happy to announce Rainy Day Diva's first giveaway.  Suave wants you to do something wonderful for yourself and your skin with the following products:
Suave Naturals Lavender Vanilla Calming Body Wash

Suave Apricot Exfoliating Scrub

Suave Cocoa Butter with Shea Body Lotion

Suave Naturals Cocoa Butter Moisturizing Wash

Suave Clinical Strength Deodarant

Suave Advanced therapy Body Lotion
How do you win?  Well, they're calling for snow in the East.  It's been raining in the West.  Not to mention it is cold across the map.  So let me know how you keep glowing in spite of the weather (in the comments section below).  It can be profound, humorous or just the facts.  I'll select a winner on Monday.
Until then, click here for a customized skin tip from Suave Skin Dermatologist, Dr. Elena L. Jones.