The only thing more fun than playing in makeup, loving all things girlie and the pursuit of fabulous is finding people who love to do the same.  So it was a real treat for me to have a one-on-one with LaWanda "LA" Amaker, the creative force behind the blog, LA's Beauty Beat.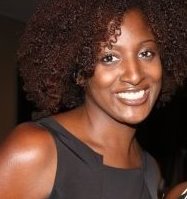 LA has turned her passion for trying new looks and her background in journalism and public relations into a thriving blog that offers the latest on how to perfect your makeup techniques, look gorgeous and basically, "Beat" that face.  After we discovered our shared love of MAC's Chestnut lip pencil, the joy of going natural and the twists that come with it, here's what I learned from LA.
RDD:  What made you decide to enter the world of beauty blogging?
LA:  I love makeup and people have always asked my opinion about makeup or hair. I have a journalism background, so I always had to write, but not for myself.  With LA's Beauty Beat I get to talk and write about the things that I like.
RDD: What's behind the name?
LA:  To "beat" your face is when you really put your makeup on and it is just fabulous.  That is what it means to "beat your face".  And my friends have been calling me LA.
RDD:  What inspires you?
LA:  I'm inspired by other people.  My friends and my peers.  Primarily my friends.  I have a good network of people that keep me going.  I am motivated by my faith in God.
RDD:  What do you think is the biggest beauty challenge for women?
LA: I think it is that hunger to look better that stresses a lot of people out.  I get questions about how to change your look.  Many women struggle with wanting to look like a celebrity.  What I emphasize is that confidence will make you glow.  If you have confidence, you won't necessarily need a bronzer or feel the need to wear makeup.  You will just want to have fun and enhance your beauty.
RDD:  What is the ideal look for you?
LA:  Full, flirty lashes (giggles), smokey eyes, glossy lips and a bronzed face.
RDD:  If you could bottle someone's style who would it be?
LA:  Gabrielle Union, Kerry Washington and Michelle Obama.
RDD: What are your pet peeves?
LA:  Eighties looks, black lip liner, and extreme eye lashes that are worn in the office.
RDD:  What are your favorite products?
LA:  Eye shadows, lip gloss and mascara.  I love Iman's foundations.  I think she has a really wonderful line for women of color.  Another favorite is Bath and Body Works' Mentha Lip Shine by C.O. Bigelow.  I also like Prescriptives.  For color I really like Urban Decay.
RDD:  What do you want women to know?
LA:  That what's inside and what you do for others is what makes you beautiful.  Makeup just enhances.  It is what you do that makes you beautiful.
RDD:  If you could teach any subject what would it be?
LA: Public speaking or writing.  If I could be someone else, I'd be a yoga instructor (giggles).
RDD:  What is next for LA's Beauty Beat?
LA: I am planning to do tutorials, a YouTube channel and man on the street videos.  I also am working on some meet-ups and product exchanges with my followers.
For more of LA's Beauty Beat, click here.