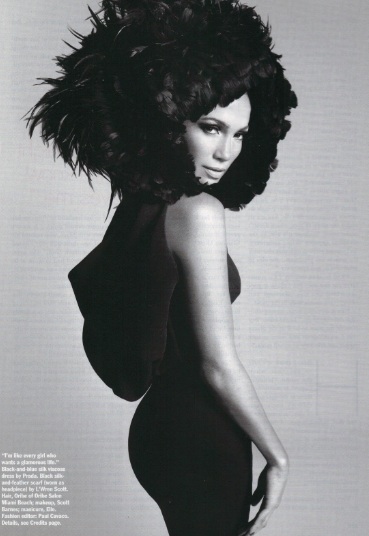 You know exactly what you want out of life, what you want to do, the places you'd love to see.  You know the woman you are inside.   But you're afraid to be that woman in public.  Perhaps you're afraid of what people would say or think if they knew you had other interest, dreams or desires.  Or maybe you're afraid to step out and do something different.  It could mean that someone might be left behind. Well, if you live a life that isn't who you really are the person you are cheating is yourself.  You might be surprised that some of the people you love have similar interest but have been waiting to find someone to share them with. Life is not a dress rehearsal.  But if it were, you'd still be expected to play your role.  So go ahead.  Don't live your life on pause.  Live your dreams.  Step into your boldness.  Be that chic.  Press Play.
Above: JLo, Allure magazine January 2010 delivers high drama with a hooded dress by Prada and a black silk and feather scarf by L'Wren Scott.
J.Lo's next movie, The Back-Up Plan, is due in April.