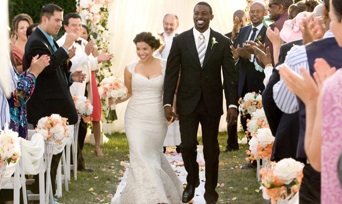 Our Family Wedding is the classic cultural clash between an African American and Latin family when Marcus (Lance Gross, House of Payne) and Lucia (America Ferrera,Ugly Betty) announce their plans to marry to their unsuspecting families.  I really enjoyed this movie.  I'm a sucker for a feel good comedy, and when you throw in a wedding, loads of style and a handsome leading man, I'm all in.
Marcus, played by Lance Gross, is the son of radio personality and single father Brad Boyd (Forest Whitaker) and has had an "unorthodox upbringing.  His family includes family friend and "play" aunt, Angela (Regina King).  Both Brad and Angela have been successful in all endeavors except love.  They both have the luxury lifestyles to prove it.  Lucia's parents,  (Diana-Maria Riva, Carlos Mencia), on the other hand, married young and have managed to build a successful business.  What they have in stability, they lack in passion.  Aside from the giggles, what I like about this movie is that both families learn that they are missing something vital.  Brad learns from his son, not to give up on love and taking chances.  While Lucia's parents learn not to forget that they once had dreams too.
I really enjoyed the style of this movie.  Every scene was perfect.  Brad Boyd (Forest Whtiaker) and Angela (Regina King) looked fabulous in every scene.  The short spiky hair cut that Angela was rocking had me seriously thinking my natural "do"…just for a minute.  And there is nothing better than a man in a suit.  My hat goes off to the costume designer, Hope Hanafin.  And kudos to set designer D. Tracey Smith for Brad's bachelor pad decor.
The scenes with Charlie Murphy were hilarious.  There's something about him that reminds me of Mr. Gaines from A Different World.