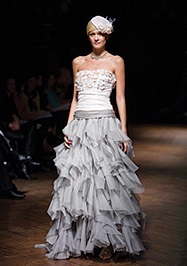 All this talk about weddings and romance this week got me into my wedding planning mood. It is one of those faux professions that I have in my mind. Something about perusing wedding magazines and flirting with different color combinations, choosing gowns-traditional vs. modern equals, well…fun!
So above I scouted out a couple of looks that I thought were "different". I love the idea of neutral colors in a wedding. They give the bridal pics a timeless look. The platinum skirt above, is definitely chic. The thing about colors like platinum and chocolate is that you can pair them with other colors and be tre original. It's always nice to add your own flair to your big day.  You don't have to limit your uniqueness to favors and your first dance.  With neutrals, you can never look at the photo album and pinpoint the year. Once you get beyond the "look" of the bridal party. There's the opportunity not to have the same old cookie cutter reception. I've seen citrus centerpieces, potted plants, and the tried and true roses, but peacock feathers.  That's a twist.
What do you think? What does your dream wedding/reception look like?