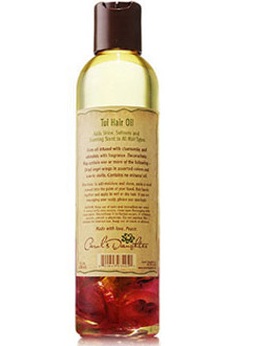 I had a fabulous weekend.  Not only was it Oscar weekend (I celebrate like I'm really a part of it), but I got to spend some time with family and friends, do a little shopping and have brunch at one of my favorite spots.  But the real highlight of my weekend was my highlights.  Yes, I colored my hair. Well, not me literally.  It was my stylist work.  I went to the salon armed with pictures of highlights, ready to do something different.  I didn't want to be subtle this time.  My goal was to leave that salon a new woman.  That is exactly what I did.  In just a few hours I went from Foxy Mufasa to Ginger. No, not ginger.  More of a cinnamon.  Yes, that's it-Cinnamon.
I am really enjoying this natural hair ride and I am so happy that I did it successfully without doing the big chop, or experiencing a lot of breakage. And that is just how I plan to keep it.  So with my newly colored tresses flowing in the faux spring breeze, I headed to Carol's Daughter for some products.  I've heard that color can really dry your hair, so I'm interested in products that provide moisture and shine. Tui Hair Oil was one of the products I chose.  Not only does promise adding softness and shine for dry hair, but it also can be used for dry scalp.  That sounded like a must-have.  Then I took one whiff of this product and knew it was a winner.  It has the most amazing scent.  I smile every time I smell it.  So far, it has delivered on softness and sheen.  You may want to find a place for this one on your shelf.  Retail $8.50/2 oz.
If there are any hair products you just can't live without, do share.
~Cinnamon