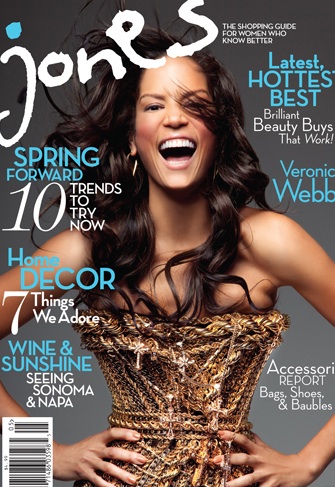 To say that I love magazines is an understatement.  I haven't met anyone with a deeper appreciation for a good glossy than moi.  In fact, the only thing that rivals a glossy with a fabulous cover, pages of fashion, and the latest trends, is the next issue of a great glossy with well, you get the point.  So I was excited to learn that a new fashion magazine was about to hit newsstands nation wide and I had been eagerly anticipating it's arrival.  Finally, Jones magazine, a multicultural, high fashion magazine has arrived.
I've taken a few days to get acquainted with the content and the feel of the premier issue and I have to tell you, Jones magazine is a breath of fresh air. There were quite a few things that they got right, and you know I am going to share them with you.  First of all, I truly appreciate that they chose a model for the cover of the premier issue.  And not just any model, but the one and only Veronica Webb.  Since Jones is supposed to be the shopping guide for "women who know better", using a model was a wise choice.  Starlets and singers are fine on occasion, but this magazine is not about them, it's about fashion, it's about us.
I was also glad to see that the images and writing were both of high quality.  The beauty section was an eclectic mix of products that ranged from high end boutique to drugstore availability.  I love that because beautiful women's needs, taste and budgets vary.  If the introductions to new products weren't enough, Jones has a feature on natural hair.  This was really a plus for me since I recently started rocking my natural tresses.  The introduction to designers for both home and fashion was inspiring.  What I hope to see more of in upcoming issues, are a few boutiques from smaller cities included alongside the international  and major US locations for What's In Store and some recipes in Epicurious (I like to try something new).
If you are looking for a fashion forward multicultural magazine, Jones is it.  Pick up a copy.  Subscribe.  You can also check out the reality show, Keeping Up With The Joneses, which captures the behind-the -scenes of launching the magazine on Centric TV (Thursday 8 p.m.).  Thanks Jones, for bringing fashion back to fashion magazines.