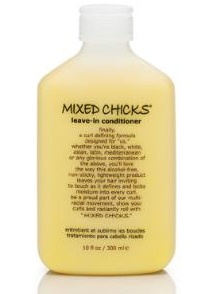 Since I started wearing my hair natural I have been experimenting with a plethora of hair products.  One of my favorites is Mixed Chicks.  I kept hearing so much about it.  I went to their website and decided to give it a try. Mixed Chicks is a 3-step system: shampoo, deep conditioner and leave-in conditioner. I give them a thumbs up on the quick and easy  online demonstration.  That was a big help.  What I liked about mixed chicks right away is that it gave my hair a nice balance.  It wasn't too greasy or too dry.  While I'm sure results vary with texture, I appreciated that it didn't make my hair sticky.
I do have some heat damage right at the crown and would-be bang area from excessive flat ironing in the past.  Because of the heat damage, I've discovered that some "curl-defining" products, just wont…define my curls.  This is where Mixed Chicks came to my rescue.  It adds a wave pattern to those strands, that otherwise would remain completely straight.  I've also used it on those resistant strands with other products.  So far it is the only product that unites my natural curls with those straight ends.
What you'll love about Mixed Chicks:  They allow you to order sample products from their website, so you can test the product first.
When I first received my sample, I thought it was way too small for one application.  Surprisingly, it was enough for two application. So really you have nothing to lose.  Trio set is $39.  Trial pack $0.99 (maximum of 3)