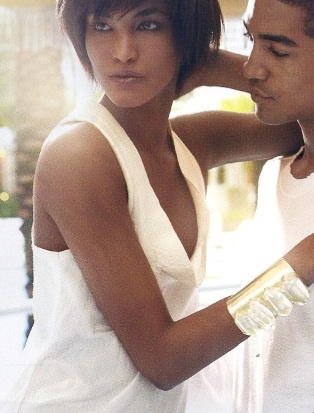 Last week Allure magazine hosted a skin care panel discussion at Barneys New York.  Editor-In-Chief, Linda Wells, moderated the distinguished panel of skin care gurus, which included Dr. Jean-Louis Sebagh, Dr. Greg Bays Brown, Brandon Trauxe founder of Euoko, and Dr. David Colbert.  It was a very informative and lively discussion and nothing was off limits.  From multivitamins and serums to snake venom and jogging, these gentleman provided candid answers and interesting insights on skincare and beauty.
Once the panel concluded and the swag bags were distributed, attendees had the opportunity to approach the experts and ask questions.  What was really nice was that this was a breakfast panel so Barneys was not open just yet.  I made my rounds to each counter, perusing through product information, sampling products and listening in as the panelists answered questions from every day women like myself who want healthy, glowing, beautiful skin.  Here's a few tidbits from the panel and the discussions afterward.
What do women do to contribute to aging, other than sun exposure? I was surprised that they unanimously agreed that too much exercise was a big culprit.  They went on to explain that excessive exercise and jogging in particular gives women a gaunt look which ages them.  Another factor that leads to premature aging: too much weight fluctuation.  Yo-yo dieting, losing and gaining quickly can result in a sagging and aged appearance.  Then, one of the doctors asked that the term "aging" be clarified.  He stated that aging is not always about lines and wrinkles.  "Botoxed people look aged, but corrected." It was pointed out that it is not having plastic surgery that ages you, it's looking like you had plastic surgery that does.   It was also noted that many women don't smile as much as they age and that in itself is well…aging.  Dr. Colbert followed, emphasizing the importance of nutrition.  The fact is excessive sugar not only adds pounds, it adds years.
Since weight loss and nutrition are key factors in aging or anti-aging, what should women eat or what exercises should they not engage in?
Euoko explained that the anxiety that women create about nutrition is also a problem.  "Those who age gracefully and have beautiful skin probably eat broccoli, but they won't deny themselves chocolate, nor will they be likely to obsess over drinking broccoli juice."  And all of the panelists cautioned against processed foods.  Dr. Sebagh added that, "you know when you are out of your frame.  Not what you should weigh, but your frame.  You know when you look good. You don't need anyone to tell you that."
What habits women need to change concerning skin care? All panelist agreed that too often, women do not give products long enough to work before they give up.  The experts suggest that you establish a regimen and do not bombard your skin with products and procedures.  For instance, products that target wrinkles may begin to show results in two weeks, whereas products that address hyperpigmentation, may take much longer before any result is noticeable.  One basic bit of advice: use a gentle cleanser instead of soap.  You do not want your face to feel squeaky clean.  That is a sign that you've stripped it of natural oils.
Most of the doctors' skin care lines were new to me.  There was so much talk of serums, multivitamins and peptides, but I felt right at home when I heard the word Clarisonic.  One of the panelist, in speaking with attendees gave,the Clarisonic Skin Cleansing System the thumbs up, confirming that it does help increase absorption rates of skin care products.  At least I'm on the right track.
So what is your skin care regimen?
You might also like:
Skin Care Goes High Tech Taking Your Vitamins