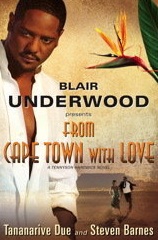 Tennyson Hardwick is an actor-turned-bodyguard-turned-detective.  With auditions, small movie roles, raising a former teen prostitute and caring for his aging father you'd think that his story line would be a tear jerker about men past their prime coping with the bitterness of having life dealt them a bad hand. Not so with Tennyson Hardwick.  He may have some emotional hurdles to clear, but he spends his down time protecting the wealthy, the beautiful, and solving crimes. From Cape Town with Love is the third novel in the Tennyson Hardwick series. Written by husband and wife team Steve Barnes, Tananarive Due and Blair Underwood (yes, he's on the cover too).  I've been a fan since the first novel, Casanegra.
While Tennyson has not achieved the success he desired as an actor, he manages to stay afloat because of syndication checks and his not-so-secret past in the sex industry.  The first two novels, Ten remained stateside.  So when I looked at the cover jacket for this latest novel, I couldn't imagine how Tennyson would have a connection to the Mother Land.  Barnes, Due and Underwood make it happen and it does not disappoint.  I'm smiling as I type this review because every page was delicious and exciting.  I don't want to risk giving too much away.  Here's what I can say.  Tennyson tries to rekindle his relationship with  his ex-girlfriend, April.  But crime and circumstance lead him to a mystery woman from his past.  Not knowing who to trust, Ten makes some startling discoveries about himself.
What's even more interesting is that Underwood has taken this novel to another level by creating an accompanying Vook.  What is a Vook?  It is a book/video hybrid that allows you to see scenes from the book.  So you can read and see Tennyson in action.  Add to that the fact that our leading man, Tennyson Hardwick, has his own iMix on iTunes featuring artist like Pearl Jam, Jill Scott, Maxwell and Ladysmith Black Mambazo.  From Capetown with Love is not just a novel, it is an experience.  The last 100 or so pages of this book had me literally on the edge of my sofa.  There were some plot twists, turns and surprises for me.  I really wasn't expecting the ending. This talented trio doesn't stop there. The prologue is as intriguing as any first chapter.  I love that they resisted tying up any loose ends from the story, as most authors tend to do. Instead, the prologue gets us hungry for the next escapade.  I wonder where Tennyson's passport will take us next time.