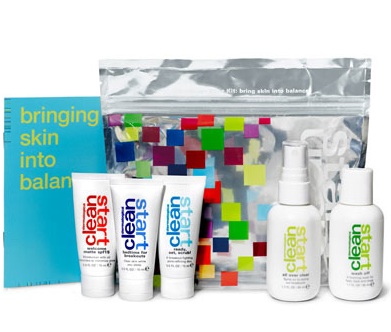 Most of us know what it is like to have the occasional pimple or blackhead, be it at a time of stress or part of an ensemble gift from a monthly visitor.  But unfortunately, the occasional breakout is no longer rearing it's ugly head (no pun intended) on certain "occasions".  Dermatologist agree that adult acne is increasing.  It's not just affecting those that are in their 20′s or wearing stage makeup (think infomercials).  Actually, adult acne is increasing in women in their thirties and later.  Unfortunately, I've had a personal bout with this unwanted condition and trust me, it is can be just as demoralizing as it was in the preteen years.
I've tried dermatologist and over the counter remedies which help to relieve the situation.  But I don't think I will rest until I find out a cause.  I've asked dermatologist and estheticians alike, what's the deal.  Being that there's no real cure for acne, the answer they give for adult acne is usually hormones.  That's what it was twenty years ago.  So what does that mean?  No, don't worry.  It's not the M-word.  Adult acne is not a result or sign of menopause.   In March at the Johnson and Johnson Cause Party with Essence magazine, I had the opportunity to speak with Dr. Ingleton, a New York dermatologist, who explained that the hormones in our body change, and that sometimes results in adult acne. Basically, doctors haven't been able to conclusively say what is causing the boomerang affect of a condition that should have been banished by the time you could legally buy a drink.

I keep wondering to myself, what could cause women of varying ethnicity's, living in a range of geographic locations and different income levels to suffer breakouts alongside their daughters, nieces and other teen family members.  Personally, I can only come up with two things: food and stress.  What else would all of these women have in common?  To be honest, if I had to narrow it down to just one thing, I'd go with food.  It's no secret that the meat we eat is often filled with hormones, which it seems could reasonably have some affect on our hormones.  Before you clear your fridge, just know that none of the doctors I spoke to ruled out that possibility, but they advised me that going vegetarian was not a guaranteed strategy in winning the war on adult acne.  So my search for the cause continues.  In the meantime, I'm always looking for products that help.  I believe I've found a winner. Dermalogica's Medibac Adult Acne Treatment Kit and Clean Start Teen Acne Kit might just be the answer.
Both are 5 piece kits that include a cleanser, spot treatment, masque, toner and a night time treatment or Bedtime for Breakouts(in the teen kit).  I actually tried the teen kit to start. It's what was in the store.  I wanted to get started as soon as possible.  It's been a little over a month and I have seen incredible improvement.  What I really love is that I have not experienced any dryness or peeling that I've had to go through with other products.  The products are soothing to the skin and as with all the other Dermalogica products, it has a refreshing clean scent.  I highly recommend it.  The starter kit was $35 and you'll get all 5 products so that you can try it without making a commitment.  For me it was definitely worth the investment.  Another product that I've included in my skin care regimen is Clarisonic's Sonic Skin Care System.  It cleanses your skin like nothing else.  No matter how many times I cleanse with water or sponge, I always find that my Clarisonic removes even more dirt and makeup, which ultimately means the removal of bacteria.  At prices ranging from $149-$225, it is definitely a commitment.  But how much is clear skin worth to you.  It is an item worth saving for.
I'll continue working on getting to the bottom of the cause.  Maybe then it will be easier to find out how to counteract it.  I'm glad to know that I'm not the only one picking at the issue.  The July issue of Allure magazine has a two page spread on eliminating zits, with a host of product recommendations–Clarisonic is one we agree on.
What acne treatment products are working for you?