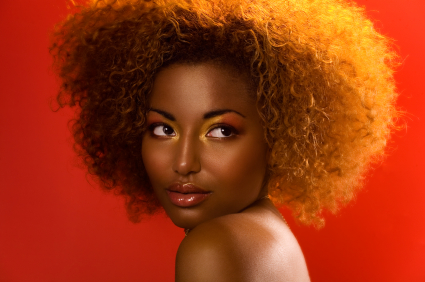 I spent the first three hours of my morning amongst a crowd of eager journalist in a cloud of anticipation. We decorated the bleak gray walls of a non-descript studio for a chance to interview my BFF (in my mind), Venus Johnston, of Nappily Ever After fame.  I was glad that I had arrived early enough to be second in line.   So I was beside myself with disappointment when a portly security guard with a carob complexion, a burgundy polyester jacket, and a perfectly coiffed snatch back delivered the news.  None of us would get a glimpse of Venus much less an interview.  An exclusive had been granted to one reporter and no further details were given.
I had no choice but to join the procession of dejected journalist and exit the building.  No sooner than my skin welcomed sunlight, my eyes stopped working and my mind only allowed me to see a vision of four letters: WWVD.  What Would Venus Do?  I know V, like I know myself and one thing she wouldn't do is give up.  While the other reporters were chirping into their cell phones, and making plans for lunch, I slid around the corner as inconspicuously as possible.  Most likely she would exit from the rear and perhaps I could get in a question or two. Studio workers were moving props from the downstairs and had propped the door open with a cinder block.  Why wait for Venus' exit, when I could make an entrance?
I snaked my way quietly up the rear staircase, reaching the top just in time to see Snatch Back leaving her post. I tiptoed past a steaming coffee cup and was able to stand in a dim corner near a potted plant, hidden from view.  I could hear muffled voices.  Fortunately the door seal was swollen and hadn't locked completely. Once the door was cracked, I got a view of Venus.  Her strong curls waved valiantly above her head like a crown.  I couldn't help but lean in.  I was dying to know who the lucky reporter was.  Secretly, I was hoping it was a blogger (always wishing my comrades the best).  Just a few syllables of that breathy British accent and I knew the identity of the mystery reporter even before I could get a full view.  It was none other than Melba Dubois, the infamous reporter from the celebrity gossip magazine Life 'N'Style.  Wow! She and Venus have some history. Well, I couldn't have scored better if I had been a fly on the wall.  Melba Dubois didn't know it, but she was about to be out scooped.  Here's Venus in her own words.
Melba: Venus, since the recent and very public scandal with your husband and his return to the big screen, you've become somewhat of a celebrity yourself.  Many of our readers want to know how do you keep your relationship spicy?
Venus: Jake and I love each other but keeping it spicy is another realm.  It's important that he see me as a sexual woman but also as the mother of his children. I know how he feels about me.  I have to have confidence in me.  And he has to know that I'm willing to do anything for him.  As long as I have that I know he'll see the beauty in me.
Melba: Regardless of what is going on in your life, you manage to stay in shape. Even the paparrazi acknowledged your figure.  How do you stay in shape?
Venus: Running up and down stairs helps a lot.  I do work out and I stay active with my daughter.  Jake and I work out together.  We go to the gym and spend time together.
Melba: I'm sure. Like you did at the hotel.  Let's talk about Sirena Lassiter.
Venus: I'd rather not discuss Sirena.
Melba: Well, it was a high profile scandal.  Sirena, the hottest star in the world.  Known for her beauty, your husband the sexy leading man- a shared past. When we broke the story, it quickly became our top-selling issue.  Sirena has quite a reach.  How did you manage to survive that time in your marriage?
Venus:  That was an interesting time [smile]. He's exposed to beautiful women all the time.  I'm not trying to compete.   I thought I had to get his attention.  In reality I didn't.  But it did bring about a new family for us.
Melba: To clarify, you mean you have a new member of your family?
Venus: Yes.  This is what we've been praying for.  Nothing works like prayer.
Melba: How did you develop such confidence in yourself, your marriage?
Venus: Having someone who believes in you – that adds to my confidence. Having that support.  My husband has helped me in everything that I've done.
Melba: What advice do you have for women who are still looking for their "Jake Parsons"?
Venus: Be true to them selves.  When you are happy and content you attract someone who is the same.
Melba: Aside from your husband and children, you own a very successful floral shop in Atlanta, In Bloom.  What advice do you have for women trying to balance marriage, family and career?
Venus:  Wherever you are at the moment, give it your all.  When I'm with the kids or Jake I focus on them.  It balances out.  On occasion, I get swept up [smile].
Melba: Many of our readers have asked about your unique hairstyle.  You're starting a trend.  What do you call this look?
Venus: Natural.  I don't use heat or chemicals.  And this is the way my husband likes it.  I've had pressure to go straight but my confidence allows me to wear my hair the way I want.  That is more important.
Melba: Another stylish woman, whose made headlines recently, Carrie Bradshaw of Sex and The City fame has recently decided to share her teen journals so we could learn more about how she became the woman she is today.  Would you consider doing something similar?
Venus:  I've thought about writing.  I do have journals.  It's probably too much for people to hear.  Carrie's style is different from mine.  I've lived through so much.  So I would love to share my ideas on style and my story.  I'd like to write about how to have your own style.  I admire Carrie Bradshaw, but let's face it.  We can't all have $1,000 handbags and shoes.  I feel fabulous every day.
Melba: Well, Venus. I'm glad we could have this little chat.
Venus: Yes. It was my pleasure.  I'm glad we had a chance to sit down and see eye to eye.
Fabulous indeed.  Something tells me that Venus and Melba may meet again.  After I publish this scoop, I wouldn't be surprised if I encounter Melba Dubois personally.  Perish the thought.  If you'd like to learn more about Venus and Jake, pick up a copy of Un-Nappily In Love.  You're in for a ride.
Trisha R. Thomas is the best-selling author of Un-Nappily In Love.  This is the sixth book in the series that began with Nappily Ever After. For more on Trisha R. Thomas, click here.