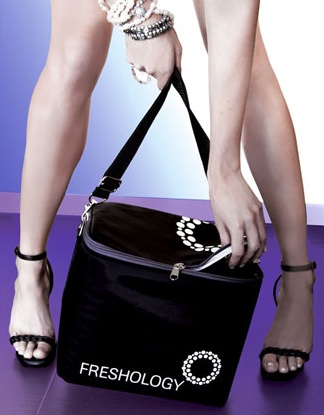 I've Been wanting to change the way I eat.  The truth is, I'm bored with the same meals.  I've made a concerted effort to mix it up and try new things but I still felt I could have been doing more. I also wanted to realign my visual appetite with appropriate portion sizes.  After all, with one-size dining (read super sized) even in sit down restaurants, judgement of what is the right size can become skewed.  So I decided to step out of the box and do something really different.
Instead of measuring my entree to the size of a deck of cards and my other portions to the size of my fist, you know the routine, I tried something new.  I called Freshology. Freshology is a food delivery service that ships fresh, organic, gourmet meals to your home.  It is a diet program, but the food isn't laden with chemicals and it is definitely not your cafeteria fare.  We're talking classic gourmet.  So let's just say it doesn't come cheap.  So I decided to try the program for the shortest amount of time possible -2 weeks.
In just 3 days, Fed-Ex was at my door with a package the size of a T.V. (the old kind, not a flat screen).  Inside were breakfast, lunch, dinner and desserts for 7 days.  The packages for my particular program ships to you once a week, in refrigerated packaging.  Now I must admit that when I first opened the box and saw my meals, I was not too happy.  The packages looked small and I kept thinking these are children's portions-doll baby food.
Reservations aside, I pulled out my suggested menu and organized my meals accordingly.  It only took 2 meals that day to realize that I was wrong.  It was more than enough food.  Which taught me that I had fallen prey to super-sized mind control.  So for the next two weeks, I ate meals like pancakes with grilled mango and chicken apple-wood sausage, Philly cheese steak panini and braised pork with mustard sauce.
The desserts were so small that they were actually more like sample sizes, but like the meals themselves they were enough and scrumptious.  What I really loved about Freshology is that it introduced me to new foods, it opened  me to the possibilities of new food combinations (roasted mango at breakfast), and it made a few foods that I would have never eaten actually tasty.  Who knew brussel sprouts or quinoa could be palatable?
I found myself not hungry.  There were times when I ate extra and it was not out of hunger, but anxiety. Sometimes an extra pack of almonds can calm the soul.   That's an issue I'll have to conquer myself.  I didn't do everything that was suggested.  I didn't drink 8 glasses of water, I had an injury that prohibited me from working out.  Honestly, I wasn't in a work out state of mind anyway.  If I had, I believe I would have seen loss.  Not sure how much you can reasonably expect in 2 weeks.  With Freshology you're eating all food groups, you're not restricting carbs to a dangerously low level.    The good news is, with Freshology you can order for two weeks and split the weeks up.  Which I think would be a good way to really implementing portion control and it allows you to experiment with your new culinary creations on your own.
Now, here's where I think Freshology could improve.  Packaging: The first week, I was able to open my packages with ease, but by the second week the seals were different and it was very difficult to open.  I have a full, but small freezer so just getting everything to fit, was an issue.  I think they should implement a twice weekly shipment for the Silver program.  Oh, and I'm still hoping to receive my Freshology lunch bag, as promised.  Would I do it again? Absolutely.  An added benefit is that for two weeks I didn't have to plan meals, cook or do dishes.  That's not in the brochure, but it is definitely a plus.  Here's a sample menu and a few pictures of my culinary experience.
If you've tried it let me know how it was for you.  Comment below if you have questions or tweet me.