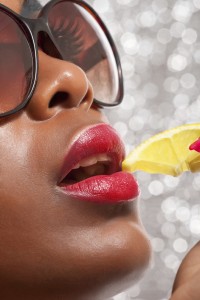 Last week was the official first day of summer and  already we've had record breaking temperatures.  It's easy to shift our wardrobes to handle the heat, but it can be challenging to do the same with makeup.   That begs the question, how do we we have fun with makeup in the summer without having a melt down-literally? The obvious answer is to forgo makeup altogether.  But what if you need coverage?  What if you really want to make that new outfit or accessory pop?  Here's a few suggestions for looking cool, while it's hot.
1. Instead of foundation, opt for a tinted moisturizer.  It will provide coverage, but is still light enough on the skin to be comfortable in extreme  temperatures.
2. Bronzer will give you a nice glow.  Apply it to temples and cheeks only.  Many bronzers have a shimmer, so you don't want to use it as a replacement for your foundation. Resist the temptation.
3. Blush may fade, shadow may crease, but mascara is forever.  Hot temperatures won't stand up to your mascara.  So make this a part of your routine.
4. Heavy glosses may begin to feel sticky in a heat wave.  A light sheer gloss or a lipstick will give you a fresh look.
5.  Another way to polish off your look, is with  a hat and shades.  They keep the sun off of your face and add style.
6. As always, make sure you wear sun-screen.  Remember your skin doesn't stop at your neck.  Apply generously to any skin that is exposed.
How do you keep your look together, when it's oh so hot?!
Today's Soundtrack:
Cruel Summer – Bananarama
Summertime – Will Smith
Hotter Than July – Stevie Wonder