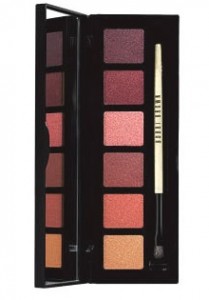 Last evening Cosmetic Executive Women (CEW) hosted their Women In Beauty series with guest speakers Bobbi Brown, founder of Bobbi Brown cosmetics and Maureen Case, president of speciality brands for the Estee Lauder Companies.  It was a sold out event. We're talking packed.  I was delighted to attend.  And what makeup lover wouldn't be?  Brown and Case dished about makeup trends, careers, and creating brands, but they also discussed the needs of the international market and white space.  I found that while their advice was directed to those in the world of cosmetics , it really can be of benefit to those making a living in other industries.  And it wouldn't be a beauty event if there wasn't some swag, right? Here's a recap of last nights event.
Brown and Case seemed to echo, what I've been hearing in whispers of others in the beauty industry.  That is that there really are no trends.  Will there be a list for what is "in" this fall or the next season?  Most certainly.  But as Case explained, "It's not up to us to dictate how people should want to look."  Brown expounded on the subject, adding that her focus is on "women feeling pretty and the basics". This past season, Brown featured every day women-not models-as the face of her Pretty Powerful campaign.  I applaud her efforts in showing "attainable" beauty.  After all, makeup shouldn't be intimidating.  In fact, the Bobbi Brown cosmetics line has recently been expanded to Poland and China, where the specific wants and needs of the consumer are slightly different from here in the U.S.  But Brown is quick to recognize that women all over the world really want the same thing-to feel beautiful.
So what can we expect from the world of cosmetics going forward? Case says it's in products that multi-task.  I think she's on to something.  As women we multi-task all day long whether we stay at home, commute to the office, or have a home office-we're always working.  Our products should do the same.
As for career advice.  Both ladies agreed that having a mentor, someone to guide you as you move along in your career, really helped them.  For Case, that person was Jeanette Wagner. " She [Wagner] gave me a great view of the industry.  She had her own style and held her own. At that time there weren't a lot of women around [in the industry]."  Brown credits Andrea Robinson of Vogue for helping her to "look at makeup differently."
So what if you're looking to create a brand now, in what is seemingly an over saturated market?  Well, Brown advises you to have something different.  Not just a "me, too" idea.  Wise counsel in any profession.  The best way to assure that you have a place at the table, is to bring something different to the table.
Both women credit their support teams with helping them strike balance between work and home.  It is always important to surround yourself with the people and things that add to your happiness and ultimately your success.
So what was the swag of the evening? Well there were quite a few goodies in our bags, but for me the highlight was the Bobbi Brown Limited Edition Gloss Palette with lip brush and an additional Pink Beige gloss.  Gloss is one of my favorites.  I'm so glad they don't have a scent! Bravo to Bobbi Brown on this one.  I like the consistency and feel of the gloss.  It's a bit more sticky than some other brands, which gives it a little more staying power.  I'm not sure which color I'll wear first.  I think that Berry and Grape are calling my name.
For Bobbi Brown's bio, click here.
For Maureen Case's bio, click here.