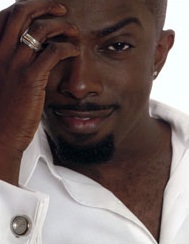 When it comes to makeup, the only thing I love better than getting new products, is learning from the masters.  Lazarus Jean-Baptiste, also known as The Makeup Man, is a master indeed.  He's worked with models and celebrities including Iman and Mo'nique.  His work has graced the covers of fashion magazines ranging from Essence to German Vogue.  So when I had the opportunity to speak with him concerning all things makeup, I was eager to learn what steps I needed to add to my regimen to achieve the flawless looks he's created for the pages of magazines.  Instead, I learned his refreshing and insightful approach to makeup.  Here's what he had to say.
RDD: How did you get started as a makeup artist?
Lazarus: I was working as a security guard in Manhattan at A&S (Abraham and Strauss) across from the cosmetics department. I would see ladies get their faces made up at the Naomi Sims counter.  At that time Sam Fine was working there and I'd see him do makeup.  My girlfriend at the time was a makeup artist.  She would often have me help her with doing her makeup and told me I was good at it, but I didn't see it as a career option.
Years later I saw Sam Fine on T.V. doing makeup and thought there might be a future in makeup.  So I called my ex, asked if she really thought I had a future in the makeup industry.  I decided to let people think what they wanted and jumped in headfirst.  I never looked back.  It's been 16 years.
RDD: What is your approach to makeup?
Lazarus: My philosophy is that makeup should be "minimally done" to make a woman irresistible.  I use as few products as possible to achieve the perfect look.   It is not always necessary to use foundation.  If a woman has great skin, I'll use a little concealer and powder.  Even on a photo shoot I may not use foundation at all.  Or I may use a tinted moisturizer.
RDD: What is it women should not leave home without?
Lazarus: I would suggest three things he would suggest are: lip gloss, concealer, and mascara for a pick me up.  It only takes 5 minutes.  Boom there it is!  If I had to suggest only one item, then I'd say mascara because it gives pop to the eyes.  I'm an "eye man" [laughs].
RDD: What do you think is hot?
Lazarus: Skin!! I am fascinated with pretty skin.  It pops.  The hottest thing on a woman is nice, even, pretty skin.  It's inviting.  You want to touch it.  Some fabrics in clothing look  so beautiful, you want to touch it.  Skin originated that.   It's the ultimate.
RDD: Staple product for summer?
Lazarus: A shimmer bronzer. Iman Cosmetics has a good one.   It has three colors that mix.
RDD: Speaking of bronzer, we see celebrities like Jada Pinkett Smith and Kelly Rowland with a bronzed glow in the pages of magazines.  How do you get that bronzed look on legs and shoulders?
Lazarus: different products give you that [look]. Tint enhances skin tone.  You can achieve that look with Self -tanners. Neutrogena has a sheer one. Nars has a product called Tahiti oil with color shimmer. LORAC also has one—Awards Show Glow mousse!!
RDD: Do you use drug store products?
Lazarus: Yes.  The quality of what is in drugstores has improved drastically.  In the past, drugstore meant bad.  Mass Market brands have done a lot to improve. Prestige brands have an edge, but it's not drastic.  I use everything from Dior to Iman to CoverGirl mascara.  It's not how much you pay, but knowing quality.
RDD: Women want to look gorgeous, but we're often pressed for time.  We see makeup artist create amazing looks, but they've usually spent hours doing so.  What do you suggest for women who need to do their makeup in real time?
Lazarus: It depends on the woman.  There's no one rule for everyone.  Makeup is customized.  I'm not an off the shelf artist.  One sized doesn't fit all.  I need to be able to do makeup for everyone in front of me.  You only need to do your face.  Not Janet Jackson, not Beyonce, not Scarlett Johansson.  Every woman needs to be the master of her face.  Or go by the day.  If it's a great skin day, forgo concealer and do the eyes.
On a photo shoot it takes me 35-40 minutes to complete a face.  I did Iman's makeup in 35 minutes-closer to real time.  Look at your face and see what you need that day.  Also, based on what you feel and what you are wearing.  You don't wear the same shoes and earrings every day!  You choose your shoes based on what you're doing and where you're going.  Assess your mood and feel.  Think of makeup as your accessory.  Take a moment to look at yourself and decide what you want to play up that day.
RDD: Do you have makeup advice for women in their 30's, 40's, 50's?
Lazarus: Makeup is customized.  It's about personality.  Not all 40-year-olds look and act the same.  Not all 20-year-olds look and act the same.   Who are you as an individual?  It's about individual expression.  We need to kick away that mass mentality.  We dictate fashion. The power is with each of us-what we will accept as beauty. So let's empower the individual. Ultimately it's about how you feel about yourself.
For more pictures of Lazarus' work, click here.