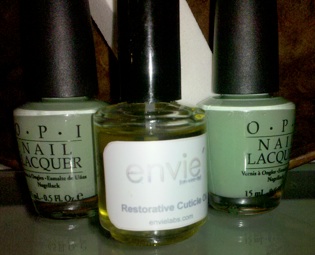 Your hands say a lot about you.  They are your calling card.  You greet, speak, touch, hug and shake with  them.  People take notice of your hands-especially your nails.  While nail health and maintenance is important for everyone.  You will want to pay special attention to your nails if you have decided to remain au natural.  Those who opt for Minx, gels, acrylic etc, are already doing maintenance, how well is debatable.  But for the purposes of today's post I want to focus on those of you who have natural nails.  You may think that because your nails are natural that you don't have to do as much.  Well, grooming is essential for the entire body which includes fingertips. Here's a few nail tips you'll want to keep in mind.
Always shape your

nails

: round, square, soft square and oval.  Find the shape that best fits your nail and lifestyle.

Use cuticle oil to soften and nourish dry cuticles.  I'm using

Envie

(on-vee-ay). I recommend that you try it.  It makes your cuticles feel like silk.

Exfoliate. Your hands should not feel like oven mitts.  Use a mild exfoliant to remove dead skin cells on your hands.

If you don't have time for polish. Don't worry.  Buff your nails for an added shine.
Usually, I'm all about pink or nude nails because not only are they forgiving, but they translate well for the corporate world. And I'm sure many of you are bored with burgundy.  The good news is that this season the hot colors for nails are lilacs, mint green and ocean blues.  I've even seen a few that wouldn't necessarily cause stares in the office.  However, I'm going to  live a little this summer.  What better way to try a new color than with Damone Roberts 1968 mint green polish.  For those of you who don't know, Damone Roberts is a celebrity makeup artist also known as the Eyebrow King.  If you haven't had Damone or one of his Brow Divas shape your brows, you might want to schedule a visit.  It was definitely one of my most memorable salon experiences.
For more on Envie's Restorative Cuticle Oil and their line of bath and body products, click here.
This week, I'm rocking No Room For The Blues by OPI.