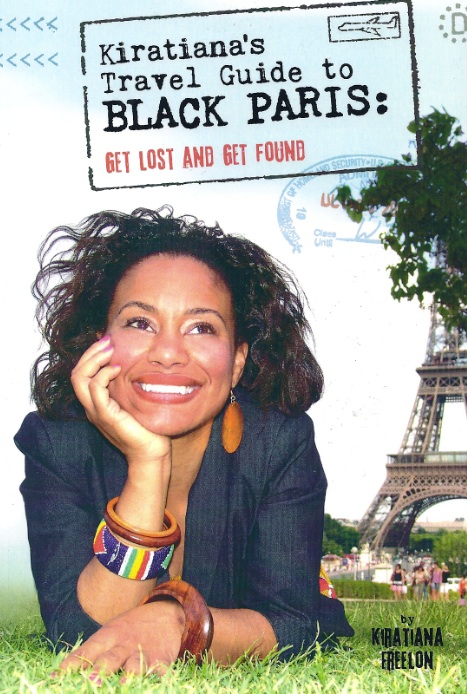 When you think of Paris, you think City of Light, Romance, Shopping, or savory cuisine.  What many don't know or forget is that this city also has been richly influenced by African, Carribean, and black American culture.  However, there's one person who want to change that.  Meet Kiratiana Freelon, editor for Black Atlas.com and author of Kiratiana's Travel Guide to Black Paris: Get Lost and Get Found.  Her goal is to make sure that travelers get to experience all that black Paris has to offer.  I recently caught up with the Chicago Native to discuss her new book, her travels, and why she loves Paris.
RDD: What made you decide to move to Paris?

Kiratiana: I had caught the travel bug.  I studied abroad in Munich, Germany.  It was a great experience and I am incredibly glad that I did it.  But I was a bit envious of those that studied in Paris. It is much more cosmopolitan and I waned to realize that dream of living in Paris.
RDD: What made you decide to write a book about "black" Paris?
Kiratiana: During the year that I lived in Paris, I discovered a rich African and Caribbean culture.  The French colonized some African and Carribean cultures, so you see those influences. There is also such an incredible African American influence there.  After WWI, there were jazz musicians who went to Paris seeking work.  There were also famous black Americans like Josephine Baker and novelist, Richard Wright living in Paris.  I thought, those cultural influences would make an interesting book.
RDD: Does the book only cover landmarks or events related to black culture or are traditional tourist sites included?
Kiratiana:  The book covers all of Paris from this unique perspective.  When people go to Paris they want to see the Eiffel Tower, Champs Elysee, the Louvre, etc. so those tourist sites are in the book, but I've connected them to black culture.  When I discuss the Eiffel Tower, I may also mention novelist Richard Wright or jazz musicians who played in nearby cafes.
RDD: I've had the chance to review this book and it is quite extensive, how long did it take you to write it?
Kiratiana: It took 6 years from idea to book in hand.
RDD:  This book covers everything from museums and food to night clubs.  What are some memories that stand out?
Kiratiana:  Paris is known for it's food, but there are places in France that serve the best African and Caribbean cuisine outside of their respective countries.  Also, the clubs in Paris are very diverse.  You can go to one club and get super dressed up and enter through an unmarked door or for ten Euro go to a different club and just listen to African music or something chill.  There's a lot of diversity because the music communities don't come together.  One that I really like is DJoon.  It's a very soulful club.
RDD: What else would you like people to know about Paris?
Kiratiana:  Actually, I would like to inspire people to not just travel, but live abroad for a year.  I changed so much that people don't think I'm from Chicago.  It broadened my perspective and changed the way I think.
Wether you're adventurous enough to get an apartment in Paris, or if you just want to take a quick getaway, Kiratiana's book would sure come in handy.  I think this is a good time for a giveaway!
Drop a comment or a tweet (@rainydaydiva) letting me know why you'd like to Get Lost and Get Found in Paris and one savvy traveler will win a copy of Kiratiana's Travel Guide to Black Paris: Get Lost and Get Found.
Meanwhile, you can learn more about Black Paris by visiting Kiratiana's site, Kiratiana Travels or follow her on twitter (@Kiratiana).  To get a sneak peak at other fabulous travel destinations visit Black Atlas.com.