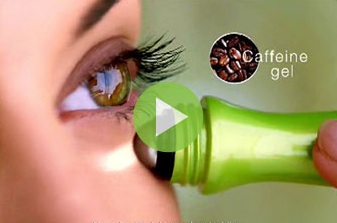 It's no secret that I'm somewhat obsessive about eye products.  Products that promise youthful and supple skin around the eye area, grabs my attention.  Often our eyes show signs of aging before anything else.  Not to mention dark circles are a dead give away for living out of order.  Bags are to be carried on the shoulder, not under the eye.  This isn't lost on all beauty manufacturers, which is why anything that makes your eyes looks youthful, usually cost enough to make your eyes bulge.  So I was thrilled to find Garnier's Anti-Puff Eye Roller.  If you experience dark circles and puffiness this is one product that won't dehydrate your wallet.
The technology behind this is simple: caffeine gel.  That's right.  Your morning ritual at Starbucks, might put pep in your step, but it's not going to get rid of those bags.  Circulation slows while we sleep, which can cause excess fluid to collect under the eye.  Lack of sleep and fatigue also contributes to dark circles.  The caffiene gel, increases the circulation under the eye and with continued use, gives your eyes a brighter look, while reducing under-eye puffiness and decreasing dark circles.  What should you expect? Well, you roll on the gel from the inner corner to outer corner of the eye.  The roller ball is cold, so it will definitely wake you up in the morning.  I'm not shocked that it feels cold to the eye.  In fact, a cold spoon or tea bag applied to the eye will reduce puffiness as well.  However, with the Garnier's Anti-Eye Puff, you get the benefit of brightening dark circles and there's not the discomfort of a cold spoon or the process of using a tea bag.  How much will it set you back?  At only $14.99 at your local drugstore, it's not really a set back at all.
Do you have any money saving beauty tips?  Please feel free to share!