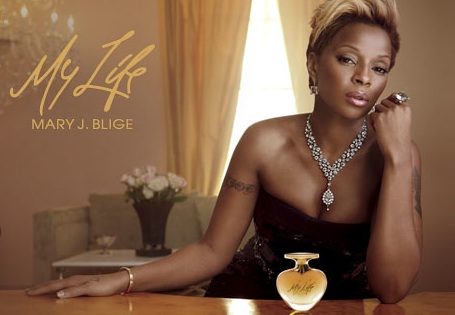 There's something about Mary and this time it's not the music.  In case you have been visiting the north pole, trekking through the rain forest or in a coma, you've probably heard that Mary J. Blige launched her first fragrance, My Life, on 7/31 with Carol's Daughter.  To say it was well received is an understatement-she broke HSN sales records, selling over 72,000 bottles the first day, according to Women's Wear Daily.  I'm not an HSN shopper, but I definitely tuned in to see one of the women who has sang quite a few tracks on the sound track of my life, discuss her life and what led up to creating this fragrance.  She discussed her past, her turning points, her music, and where she is now-helping women through her FFAWN organization.
Now if you're a Mary J. fan, this is probably not unfamiliar to you.  Her fans have been along for the ride since she debuted in the '90′s with What's The 411?  So what about My Life, the fragrance?  The scent truly captures the spirit of what Blige's journey has been as she describes it.  It is bold without being overpowering and it is still very feminine.  I love that it is completely different from most of the celebrity fragrances out there.  The notes are gardenia petals, bartlett pear, white tuberose, jasmine, cashmere woods and praline.  My Life is soft without being overly fruity, reminiscent of candy or flirtatious.  I love it.  Fragrances speak and this one says three things: confident, sexy, woman.  And being that I love a pretty package, I must add that the look is very classy.  That's always a plus, especially if you want to add it to your nightstand. My Life is not only a winner, it is a classic.  I can't wait to see what Mary does next.
What fragrance are you wearing this summer?