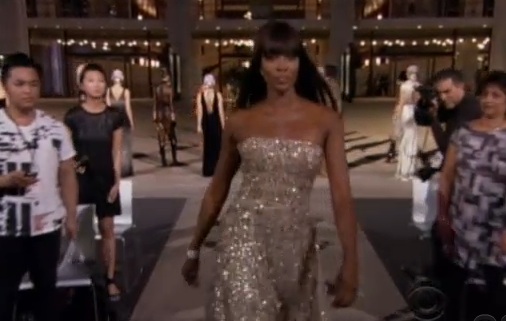 Fashion is in the air.  This week marks the beginning of Fashion Week.  This year it's off to an early start with a fashion show that took place in Lincoln Center tonight.
Models circled the fountain and weaved their way amongst audience members in everything from tweed jackets and pompadours to blue lipstick and evening gowns.  It was a fashion feast.  Australian director, Baz Luhrmann called it a fashion opera.  They definitely delivered on drama. Mr. Andre Leon Talley was the commentator.  It was estimated that at least 175 models participated, including Gisele Bunchen and Naomi Campbell.  Naomi graced the catwalk wearing an Oscar de la Renta gown before leading Pharrel and a select group of models on to a double decker bus.  They returned moments later wearing Fashion's Night Out t-shirts.  Next week, there will be more fashion festivities on the tube as CBS will take us behind-the-scenes of the fashion world.  Set your Tivo, this should be a treat.
It was open to the public and believe me it was the hottest ticket in town.  If you couldn't get a ticket, like moi, don't fret.  A live webcast of the show aired on CBS.com.  Meanwhile, if you can't watch the fashion show right now, I've added a few stills and a video preview of the event, below.  Just a snack.