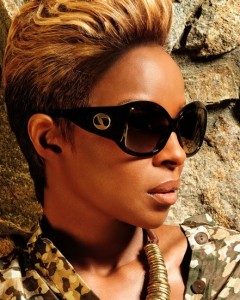 I hate wearing glasses.  Ever since I had to start wearing them in the summer after first grade, I hated them.  In fact, my first liberating fashion experience was in second grade when I removed my glasses for my school pictures.  Needless to say, my mom wasn't too pleased.  She had paid a lot for those glasses and thought they were cute.  But everyone has to develop their own style at some point and I knew that mine didn't include spectacles at the tender age of seven.
I didn't change my mind as an adult.  I don't even wear sunglasses.  People ask me all the time, what do you do when it is bright and sunny?  It's simple.  I squint.  But that is about to change, for two reasons.  First of all I've learned that the delicate skin around the eyes isn't fully protected by my sunscreen and my eye cream.  Sun exposure to the eyes can still cause damage and premature lines and squinting doesn't help.  This is where the case for sunglasses comes in.
The second reason: Mary J. Blige has designed a line of shades that made even a hater like me look twice-Melodies By MJB.  I'm rethinking my stance on sunglasses. This isn't all about Mary. It's really about prevention and style.  I just love it when the two can come together.  Meanwhile, here's a few things to consider:
Large sun shades are not just for the rich and eccentric.

Make sure that you choose sunglasses that are large enough to protect the skin around your eyes from the sun.  Narrow boxy shades may look cute, but they might be short on protection.

Use a sun screen.

While you don't want to place it directly under your eye, keep in mind that it absorbs into the skin. Every little bit helps!

Apply an eye cream at night.

At night is when your body's cells go into repair mode.  Who couldn't use a boost?  Nourish the skin around your eye to help prevent lines and creases.