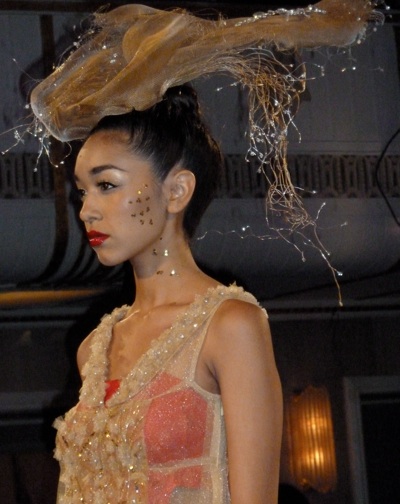 They say it's never as good as the first time, but Fashion's Night Out might be the exception.  The second year of the fashion festivities did not disappoint.  I, for one, had a fantastic night.  I didn't have any brushes with security like last year.  The only thing about FNO is that there is so much to see, that you can't possibly see it all.  If only I could master being in two places at one time.
FNO was from 6p.m. to 10 p.m., but I got started a little early by taking in one of the couture fashion shows.  The show featured the collections of three designers: Amal Sarieddine, Romanitza, and Sushma Patel.  These were all new designers to me.  The designs were amazing. Of course, I arrived to the show in the nick of time.  We joked on the elevator what if we are entering the wrong way and walk in on the runway? Well,we weren't exactly on the runway but somehow we came in on the wrong side of the Waldorf and found ourselves standing behind the models just minutes before they were to sashay. Statuesque, stunning and a bundle of nerves before hitting the runway.  Fortunately, some kind handsome stranger was willing to escort us past the procession of models to get to out seats.
Amal Sarieddine's collection was a combination of metals, jewels and elegance. Where some designers favor ruffles for a feminine look, Sarieddine's designs were angular.  It was a nice blend of past romanticism and decadence with futuristic style.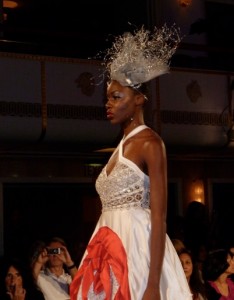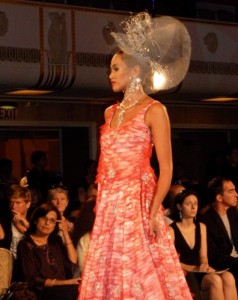 Romanitza took us in a completely different direction with frilly, romantic and playful looks.  The mixture of bold colors was very interesting and various shades of brown and grey-loved it.  Now as for Sushma Patel, I only have two words:  Gorgeous Gowns! She showed floor length as well as shorter dresses, all with amazing head pieces.  Just take a look at these pics.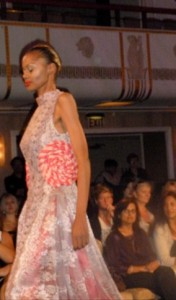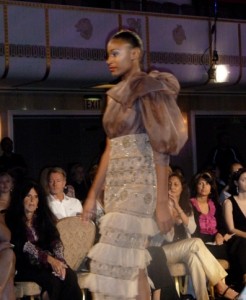 The rest of the night was for FNO and due to proximity, I started at Rockefeller Center.  They had live models, smizing to the crowd and even gave out FNO tote bags.  Across the street was the QVC pop up store, where I saw Isaac Mizrahi.  I'm not much for tele-shopping but who knew QVC had it going on like that.  Not only did they have fab from Isaac's line and others, but it was just a fun place to be or maybe that was the champagne. Either way, hats off to QVC.
From there I made my way over to Saks Fifth Avenue which was all the way live.  After a hand massage and a fragrance consultation with Jo Malone, I made my way to several stops: Cole Haan, H&M, Bergdorf Goodman, Henri Bendel and eventually Soho.
I have to say this, Soho was like another planet on FNO.  Traffic was crazy, but thanks to Volkswagon, I didn't have to maneuver the streets myself. Volkswagen was giving free rides from Rockefeller Center to Soho in their 2011 Jetta.  Surprisingly, that was one of the best things.  Our driver should have been a comedian.  He kept us laughing and got us to and fro safely.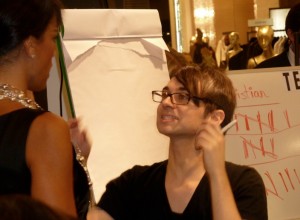 There was a lot I missed in Soho, but I hear that Solange Knowles was the DJ at one boutique.  I missed Solange, but I had a few other celebrity sightings. Aside from Mizrahi, I saw Nicole Ritchie in Bergdorf's, sporting her blonde bob- very chic.  But seriously, she should change careers, track and field is her calling.  I have never seen someone move that fast in heels.  I'm sure the Jamaica team could use her skills in the next Olympics.  I couldn't even get a picture, but trust me she was fabulous.
By the way, I love these shoes!  Just as I snapped a picture of these boots, the heels in the upper right hand corner decided to commit shoe-a-cide.  Am I the only one who makes clothes fall off the hangers and shoes jump off the shelves when I walk by.  Yikes!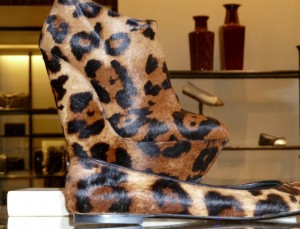 Then, before the night came to a screeching halt, I ended up back at Saks where Christian Siriano was playing pictionary with his fans.  That only held my attention for a minute because as the night went on it was bound to happen: the freaks came out.  Let me just say this, fur is not for every body.
I still believe that it was a person wearing fur and not Sasquash or the Abominable Snowman. It caused a spirited debate amongst my fellow FNO crew, but we were able to talk one friend out of making the call to authorities. I'll chalk it up to a fashion faux pas.  The reward money would have been nice though.  Let that marinate.
To check out Amal Sarieddine and Romanitza's collection hit my Facebook page. I'll update you with more pictures this week. Meanwhile, here's a recap of FNO '09!