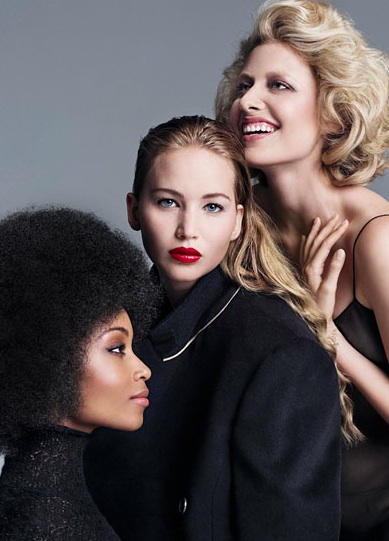 September is here.  Can you believe it?  2010 is definitely in a hurry.  This month alone is full of activity: deadlines, back-to-school, end of summer vacations, end of the 3rd quarter at the office.  But there's another side to this month of new beginnings.  September is stylish, smart, sexy, sweet, silver, stunning and simple.  September is a month of beauty, fashion and it ushers in a new season.
I've been stockpiling all the September issues of the glossies, getting my makeup and fashion fix this month.  There's always new trends, new designers, and new campaigns.  While everyone was highly anticipating and raving over Halle Berry gracing the cover of Vogue's September issue with a slicked out bob (as well they should), another hot model/actress managed to snag the cover of W rocking a fro none the less.  I'm talking about Yaya DaCosta.
You may remember Yaya as the runner up to Eva "the diva" Marcille on America's Next Top Model a few cycles back.  Well, Ms. DaCosta has worked steadily to build an impressive career since her Top Model days.  Yaya has starred alongside acting greats such as Antonio Banderas, modeled in major magazines, and even had a recurring role on ABC's hit series, Ugly Betty.  She played Vanessa Williams daughter.  That's a little pie in the face to all those who say the Top Model contestants only turn up on milk cartons.  Take that!
What I love about this cover is that it gives you it gives you smart, sexy and stylish looks that go along with the fluctuating temperatures that September can bring.  Ya Ya and Greta both are wearing makeup that is a subtle transition from spring to fall makeup looks.  A rosy lip and touch of lavendar on the lid is a nice balance.  A look that can take you from the office into the evening.  Long lashes are always a nice touch and with a lot of mags showcasing girls with barely there lashes nowadays-I loved it.  I'm even loving the Ralph Lauren cashmere turtle neck.  Jennifer's bold red lip is a bit more of what I'd expect for September fashion, but it still works.  A look like that needs precision-don't try to skip the lip liner on that one.  Use one that is closer to the shade of the lipstick itself for that look.
I could not end this post without circling back to the hair.  I'm loving the fro.  I haven't seen a fro on the cover of a major fashion mag in well…never. Kudos to W on that one!
I'd like to hear your thoughts on the cover?  What's on the agenda for you this September?