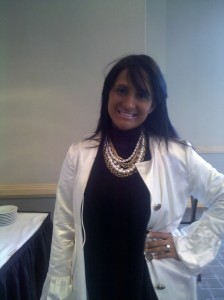 So while I was attending a luncheon and fashion show to raise awareness about breast cancer , I decided to discreetly slip back stage for an up close look at some of the fashions.  Once there, I found myself front and center with models, racks of fabulous designs, and backstage organizers.  I blended in, as if that is possible, trying not to look like I wasn't supposed to be there.  That's when I spotted Simone Rodriguez, also known as Sisa.
I'd seen her when I first arrived as she prepped for the show.  I'd seen her models strut down the catwalk wearing her designs.  Now I was face-to-face with the woman herself.  So I decided to do what I do best—impromptu interview.  I wanted to know more about the life of a designer and I got so much more. What I discovered was nothing short of inspiring.
RDD: How did you get into fashion design?
Sisa: I began when I was about 10 years old.  I would sketch in school. My parents were from Italy but I grew up in Brazil.  My mom was a designer.  Later I started modeling.  I did freelance design for a long time.  Then I started designing swimwear and resort collections.  I would export them to the Caribbean.
RDD: What is your philosophy as a designer?
Sisa: My goal is to make every woman feel good about themselves.  Every woman has that beauty, charm and elegance inside.  They may not feel girly enough initially, but once they find that inside themselves…[laughs], you can't control it.  My reward is seeing that change.  It is more rewarding than profit.  That's why when I do fashion shows I like to show the average woman.  I also like to show three generations.
RDD: Lot's of events taking place for breast cancer awareness.  How is this event special to you?
Sisa: I am a survivor. Twice.  I had two lumpectomies.  The first time I was in a bad car accident.  They had to cut me out of the car, but I didn't have a scratch on me.  So they suggested I go to the hospital to check for internal bleeding.  It was then that they discovered something on an MRI.  It didn't show on a mammogram.  A few days later I was having surgery.
The second time I felt it through self-examination. I tell every woman that I was saved twice.  You must be persistent. Go deeper because a mammogram may not catch it.
RDD: How did that change you as a designer and do you have any advice for other women who may be facing the same health struggles?
Sisa: I am more inspired to design for everyone.  I tell my customers that beauty comes from the inside out.  You need to feel beautiful. No matter what you have missing or what you have more of, you need to feel beautiful.  I was prepared to lose my hair and my breast.  I even wore a skin cap to see what I would look like without hair.
There are so many ways to coordinate [that you can still look beautiful].  People see what you transmit.  Whatever you don't like, people see that first.
RDD: What do you think we as women should be doing to help girls not build up these insecurities?
Sisa: I think we need more organizations like Girls Inc. I worked with them some time ago.  We need to use non-perfect models.  Every one has beauty in a different way. Retailers should give everyone opportunity-not just tall or skinny.  I've had women a size 16 as well as a 75-year-old walk in my shows. Sometimes we as parents are not listening.  We need to let [our kids] discover themselves.
RDD: What advice do you have for women who want to begin a career in fashion a little later in life?
Sisa: The challenge is getting the first shot. But you have to be persistent.  I started taking pictures of my designs with my iPhone.  I design everyday. Get some scrap fabric, redesign clothing, let your imagination go.
I always had an interest in fashion, but for a time I wondered if I could do something else.  I started working at Home Depot.  I guaranteed my future in fashion through business.  I became the general manager at Home Depot. I stayed there for 12 years. Now I can live my dreams.
Sisa will show her designs at the Haute Couture Fashion Week, February 16, 2011. For more on Sisa, visit her on Facebook or follow her on twitter @SisaDesigns