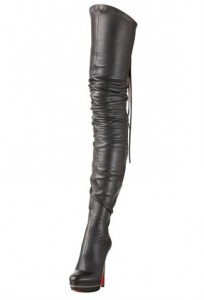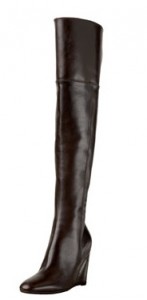 Don't panic!  Ankle boots are still in, but the hot trend this fall is over-the-knee. I love this look!  Of course, this trend never goes out of style for entertainers. Mary J. rocks them on stage (as she did earlier this week) and if you are a web surfer like myself, you may have even caught a peek at rocker Lenny Kravitz wearing a wedge similar to the Sergio Rossi above on the right.  But for every-day-divas like ourselves, you don't strut in these every season.
Now, as with all trends, over-the-knee is not for everybody.  If you have a uni-thigh or knock knees, this isn't the look for you. The goal with uni-thighs (as with uni-brows) is to divide and conquer-not showcase.  I'd never steer you wrong.  So to be certain I was on the right track, I did a little style verification. I recently had the delightful and hilarious experience of meeting stylist extraordinaire, June Ambrose.  
When I mentioned the over-the-knee boots and uni-thighs in the same sentence….Take my word for it, ladies.  It's a no-no. Perish the thought.  Stick to riding boots and ankle boots as a stylish alternative.  Above left, Christian Louboutin; Sergio Rossi, right. Aren't they hot?!
For more style wisdom from June Ambrose follow her on Twitter or check her out on Facebook.