I've always wondered what it would be like to be on set at a photo shoot.  Just recently I had the chance to do just that.  I stood on set watching the photographer and the beauty editor review the film.  Each whisper, nod, and click was an indication of how the shoot was going thus far.  The photographer called for more reflection. His assistant rushed in to adjust the set.  The model was ready to give it another try. "More shoulders. That's it. Not too posey and …smile!"
All in a days work for a model, right? Except this time the model was me!  Yes, that's me in the picture up above.  I'm one of three natural hair makeovers featured in the July issue of Ebony magazine!This was an awesome experience!  I had so much fun.  The day consisted of a celebrity-style makeover including: haircut, color, makeup and the photo shoot. When Madonna said "strike a pose there's nothing to it," she was wrong.  It takes a team!
This week, I'm sharing behind-the-scenes of the makeover and photo shoot. Up first: The Hair
The location:  Devachan Salon, NYC
Devachan Salon is a curl oasis.  They specialize in curly hair. We're talking all curls, all the time. My hair makeover team included  a colorist-Shari, stylist-Rosie and assistant-Julia.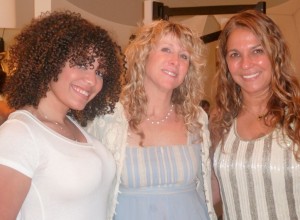 We began with a consult, while I was getting my makeup done.  Shari wanted to know why I had chosen my current color. After she found out what look I was going for, she told me how she would go about achieving that look. Next was styling.  Rosie unraveled my spiral curls one by one, snipping the ends, to give my hair some much needed shape.
Meanwhile, Julia educated me on the Devachan technique, products and the book,  Yes, Devachan founder, Lorraine Massey, penned Curly Girl: The Handbook. Not only are there empowering stories from other naturally curly-haired women, but there's a DVD that explains the technique step-by-step.
Hats off to Devachan for one of the best shampoo experiences ever (actually, it was No-Poo).  Fully reclined, in my own little cocoon-definitely gets a thumbs-up.  I have to say, the Devachan staff was amazing!  They didn't miss a beat.
Tip: Shampoo contains harsh sulfates often found in detergents. Try Devachan's No-Poo to retain moisture while cleansing.
The result:  My hair is a warmer, softer brown with auburn and caramel highlights. And most importantly, I love my hair. Thanks, Ebony! To see more of the makeovers, pick up the July issue of Ebony on stands now.
Tomorrow:  Meet Ebony's Beauty & Style Editor, Elaine Welteroth.