This past weekend bloggers from all around the country came together in Washington D.C. for the annual Blogalicous Weekend. It's a gathering of women (and some guys) who are truly making it happen in the blogosphere and beyond. The weekend was full of creativity, sharing, learning and yes, FAB (Fashion and Beauty)!
There were so many bloggers there that were absolutely fabulous in every way.  So I wanted to give you a snippet of some of the F.A.B. that was absolutely Blogalicious! Above, Glam Girl Go, strikes a pose.  (Click on the images to connect with these bloggers)
Tamara of Blitz and Glam chose a classic-a little black dress with a contrasting belt to add a little something extra.
Mercedes of Be Chic Mag and Maria of Flor De Maria Fashion brightened things up with color.  And I'm not just talking about the fashion.  Mercedes is wearing Smitten by CoverGirl.
This sweater offers the best in Fall fashions-cozy and chic! Style is in the details!
Tina, of Life Without Pink, gives an ultra-feminine look a little edge.  She rocks a lace top with snakeskin peep-toe pumps.
This necklaces is eye-catching.  Love the satin flower.
Justice Ny wears a Stella & Dot necklace that is definitely a conversation piece.
Aleysha Proctor combines a classic print with a classic style.  You can't go wrong with a leopard print pashmina.
And then there were shoes…
Monica, Style editor for Be Blogalicious, was stepping high in these leopard print shoes by Chinese Laundry and teal nail lacquer. If you like this polish, consider some suggestions, here .
While Nichelle, a.k.a. Style Mom, sat for her CoverGirl makeover, I couldn't help but notice these cute red numbers by Me Too.  The great thing about them according to Style Mom, "They are so comfortable."  I'm going to have to check these out.
You can't judge a book by its cover.  But shoes are a different matter altogether.  Author, Helena Andrews, knows hot to pick 'em!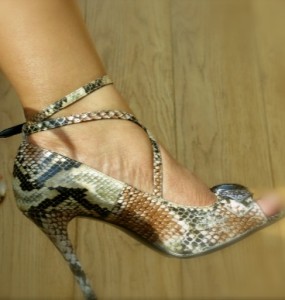 This is love!
There's more FAB Blogalicious to come…