If you've been watching Scandal, Shonda Rhimes' new hit on ABC starring Kerry Washington, then you understand the suspense that's kept me on the edge of my sofa on Thursday nights.  I've been captivated by the story line, the dialogue and of course, the scandal.  Each episode left me wondering what would happen next and WWOW (What Will Olivia Wear)?
Enter Lyn Paolo, the costume designer for Scandal.  She's the woman behind the chic, ultra feminine, yet powerful wardrobe of Olivia Pope.  I had a chance to speak with Paolo about Olivia's style, the possibility of a collection, and her advice to busy, stylish women everywhere.
RDD:  We are excited about the character, the pacing, the power, the storyline and of course, the style.  Was that intentional?
Lyn: Yes.  I wanted to tell her story through color.  I felt she should be the central focus and point of light in a room.  I wanted her to be elegant and soft.  I wanted there to be warmth to her, but with structure.  She's in a very dark, male-dominated world so I always want her to stand out. And Kerry has such beautiful skin.  She's stunning.  When you put her in a soft peach, pink or cream, her skin just shines.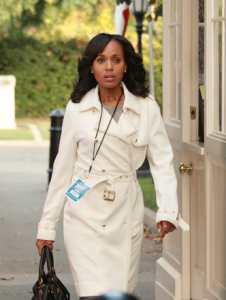 We had some great designers [like] Armani, Chloe, and Valentino that helped us.  A woman as successful as Olivia Pope, may not have many clothes, but  what she has would be quality and beautiful.  We also wanted everything to be understated.  She only carries two purses throughout the show.  They are both by Prada and beautiful. Olivia wouldn't be fussy enough to change her purse with every outfit.
RDD: So far the tones have been subtle.  Will we see bold colors on Olivia?
Lyn: For the flashback scenes we did show her in darker colors.  We wanted to show the difference in her through her clothes.  She's wearing the Gucci jacket, jeans and boots.  We wanted to create the feeling that she hadn't become the Olivia we see in the present.  She hadn't created her own company and she hadn't fallen in love yet.
RDD: Mad Men is working with Banana Republic on a collection.  Do you foresee a Scandal collection?
Lyn:  Maybe at some point.  I feel that Scandal needs to be on longer. We need the image of this working woman that is also feminine.  Mad Men is a period piece, I think that speaks to it.  I think it's a constant battle for women who are serious and do serious work.  It's sometimes hard to find that fine line of, "I am a sophisticated woman and should be taken seriously, but I want to look and feel feminine."
RDD: A lot of women want a wardrobe that makes them feel powerful, feminine, strong, and sexy.  Do you have any style suggestions for them?
Lyn: Be true to yourself.  Be careful with your choices.  If you find something that looks good on your body, there's nothing wrong with buying two or three of them in different colors.  It's almost your uniform.  In my closet I have everything lined up from light to dark.  Get in the closet. Get super organized.  Throw out anything you haven't worn in a year. Don't buy the latest fad.  If it doesn't look good on you, why are you buying it? Treat it like it's a business.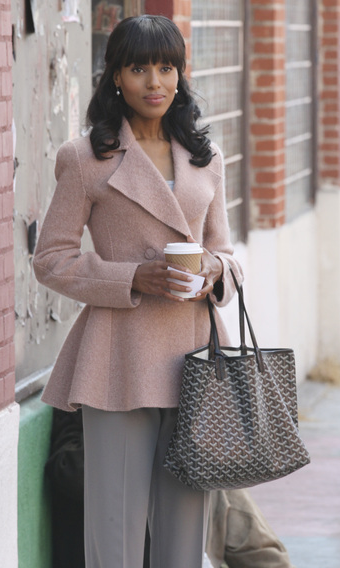 RDD:  Do you have any suggestions for achieving that polished look?  Is there anything women overlook when getting dressed?
Lyn: Most women don't accessorize enough.  A lot  of women will wear the same earrings every day.  That's fine, but it would be better if you had three or four necklaces and earrings. It's good to change it up.  It doesn't have to be a purse changes everyday. What's more important to change is what's on your body-what you're wearing.  It gives you that little extra edge of, "I put this together."
If you look at Olivia Pope, even though she only has a small collection of  jewelry, she uses it. Wear what's elegant and never goes out of fashion.  Don't go crazy with giant earrings at work.  Some of the jewelry now is so inexpensive and there is some great, fun stuff out there.  You can go to Forever 21. You don't have to pay Barney's prices.
Also, shoes are always the go-to.  That's wonderful.  Just make sure that you can walk in them and that you can make it through the day. I love shoes. I always have 10 to 12 pairs of shoes under my desk, so that I'm comfortable.
RDD: For  those women with a curvy figure, what do you suggest?
It really depends on the curves you have.  If  you have a waist show it!  If you're short-waisted still show it.  The old tricks are the good tricks.  If you are heavier on the bottom, wear dark on the bottom.  If you're busty, wear collars open. Wear layers even in the summer.  I'm a skirt girl.  So I'll wear a black skirt with Helmut Lang blouse and a tank or a cool Vivienne Westwood jacket.
RDD: How did you become a costume designer?
Lyn: I am from the north of England. I worked at Top Shop in England.  I moved here and began working on music videos in the mid-eighties. I started on those and then slowly I moved on to commercials.  I was lucky.  A lot of nice people helped me a long the way.
RDD:  What's your advice for those who want to work as costume designers?
Lyn: It's gotten trickier.  Go to school. Then, hit the pavement.  Watch a lot of movies and television. Don't just watch the story, pay attention to the visual.  You can start working in colleges.  Everyone is making movies.   Start that way.  I still do student film.  I just did a movie for a friend. Doing it is the best education.
Scandal has been picked up for a second season.  In the meantime you can watch the first season at ABC.com.
Source: J. Emilio Flores, NYTimes; ABC.com