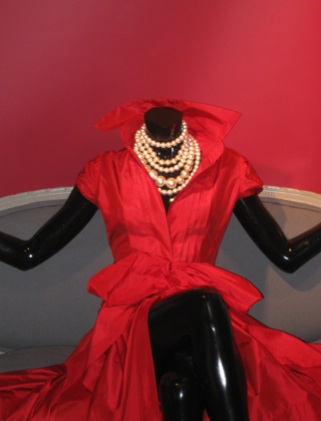 Fashion's Night Out is upon us once again!  Since it's beginning four years ago, I've eagerly trekked into the city to take in the latest fashions, meet designers, sip cocktails, and take in the sights.  But after last year-as much fun as it was-I was pretty sure this year I'd do something different.
It was right around the time that a Kardashian (not sure which one or how many) showed up on the same block that I was strolling along.  That's when the, already mob-sized, crowd in Soho quadrupled and got out of hand.   Yikes! Suddenly this wasn't so fashionable.
Here's the thing, fashion is enjoyed in many ways-that's the beauty of it!  I know I can't be the only one who loves style, fashion, and seeing the latest trends without dodging wanna-be models and college-aged guys looking for a pick-up.  I can't be the only one who doesn't want to stand online for 45 minutes or more to catch a glimpse of the new designs, the designer or maneuver around more models.  I know not all of you can make it to Manhattan.  So I came up with an idea.  Take Fashion's Night In!!
Now, I'm not trying to put a damper on Fashion's celebratory night.  But this is a great idea if you can't make it to the city or, heaven forbid, it rains.  Plan a Fashion's Night In with the girls.  Here's a few ideas I came up with to make your Fashion's Night In a hit!
Menu
In keeping with Fashion's Night Out, your night in needs a signature cocktail, drink or wine choice.
Treat your guests to tasty finger foods.  Since the emphasis of the night is fashion and fun, you won't need a full spread.
Decor
Place current September issues of your favorite Fashion Magazines (Vogue, Elle, Harper's Bazaar) on display, to create that fashion mood.
Go Tech
Thanks to technology, there are so many ways to stay up to the minute with what's going on at Fashion's Night Out.
Keep your laptop on and visit the Mercedes Benz/Maybelline website to stream live shows so that your guest feel like they are part of the action.
Check in on Instagram and Pinterest to see  photos of what's happening.
Entertainment
Put on your favorite fashion movies like Mahogany, The Devil Wears Prada, The September Issue, and Breakfast At Tiffany's.
Tune into Hulu for non-stop episodes of America's Next Top Model or Modelinia.
Music can be upbeat techno or catwalk smooth, but at some point you really should play The Glamorous Life or Vogue, seriously.
Activities
Remember the Soul Train line up?  Well, this night is about fashion so have each of your guests line up for their chance to walk the runway.  Yes, Vogue!
Try a themed party where you have guests where clothes from an era.  Think, 40′s vintage, retro, or eighties!
Swap! Have each guest bring an item they don't wear as a gift.
Makeovers and manicures are always fun!
Whatever you decide to do, have fun in the name of fashion!  You can check the schedule of events for Fashion Week, here. #FNO