Octavia Spencer and Naomie Harris are going nude this November.  Both actresses will grace the cover of fashion magazines (Elle, InStyle UK) wearing nude makeup.  Harris, who will be in the next Bond film opening November 9, is sporting a barely-there, au natural look for InStyle UK.  Oscar winner Octavia Spencer, shows off a retro look for Elle's Women In Hollywood issue, complete with bouffant 'do, dramatic eyeliner and L'Oreal Paris' Fairest Nude lipstick.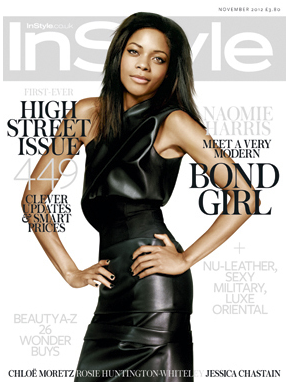 What I love about this look is that it goes against the trend of wearing deep, dramatic lips and eye color in the fall/winter months.  It is perfectly fine to go nude in any season!
The plan:
If you're going to wear a nude lip, then play up your eyes with dramatic liner (as pictured on Spencer) or with eyeshadow for a smokey eye!
When wearing a nude lip, make sure to cover your lips with foundation before your lip color, to make sure that you begin with an even tone.
Choose a lip pencil that is close to the color of your lipstick; but do use a pencil to give your mouth definition.
When wearing a nude lip, a hint of gloss is always welcome.
My favorite nude lipstick: Freckletone by MAC!  Check out Naomie Harris in the latest Bond film, Skyfall.