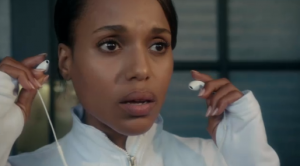 Something about this Thursday feels a little different.  That's because this Thursday there will be no Scandal.  I'm going to miss this show tremendously this summer.  And I'm not the only one.  The web is still buzzing about the finale and the lead character, Olivia Pope.  By the way, I've been wanting to thank Shonda Rhimes. Because the finale made it "OK" to like a character with a very unlikeable trait, reveal all of her flaws, have her fail and still like her.  That's writing at it's finest.
However, as I perused the web to see what other Scandal fans were saying, I came across the Scandal backlash.  Yes there really is such a thing.I found articles comparing women's Scandal obsession to the NBA, questioning if black women should be "proud" of Olivia Pope, and even comparisons to the loud, crass, immature behavior of women on reality TV.  Well, as I was reading a lot of the articles and comments I wondered if people realized that Scandal is fiction.  Yes, people it's make believe.  I also think that some of these people don't really watch the show.
Let me just say that I hate cheating, cheaters, cheating culture (all the songs and cliches about it).  That's why though I loved the show, I felt some kind of way about Olivia and Fitz's relationship.  What kept me watching  was the fact that I never saw any indication that Olivia felt it was "right".  Rhimes and her writing team did a great job at showing Olivia's conflict about the relationship.  After all it was Olivia who said how horrible she felt about the relationship, it was Olivia who resisted Fitz's advances, it was Fitz who initially fired Olivia because of his attraction to her, and it was Olivia who compared them to Sally Hemmings and Thomas Jefferson.  Yes, they dealt with the race issue.
I wonder where were all of these people and their concern for the fictional role models of black women when The Wire was a hit.  Were they against interracial relationships when Helen and Tom were together on The Jeffersons?  Were they grumbling about Claire being too career-oriented on The Cosby Show?
When I watch the show what I see is the broader picture which the writers wrapped up perfectly on the finale—Olivia and Fitz didn't win.  As Cyrus put it, "life isn't a romance novel."  We get to see the mistakes this character makes, but never is it portrayed as the "right" thing.  None of the Scandals are portrayed as guidelines for your personal life.  That is why they are scandals.  Every character has a personal scandal—even the Gladiators.  Just think, we've seen some near perfect portrayals of black women on screen before—Claire Huxtable being the most notable.
I don't recall any articles stating a dramatic rise in the number of women becoming lawyers or marrying obstetricians during the run of The Cosby Show.  I also recall a lot of complaints about the successful mother of five being too perfect, not realistic enough, her house was perfect, etc.  More recently there was Nurse Hawthorne (Jada Pinkett).  Her only fault was caring too much.  And what did that get her?  A drop in ratings.  Which is probably why during her third season she had a very uncharacteristic affair of her own.  But it was too late.  The show was cancelled.
While I agree that TV can and often does influence culture, I would hope that no one would cheat because of Scandal any more than they would take out a hit (like Cyrus) on a frenemy or dismember anyone (like Quinn or Huck) because of the show.  And let us not forget that the first lady, the wife, Mellie is no slouch.  She's just as strong-willed, connected, powerful (in her own way), and scandalous as Olivia.  And I'm not just talking about election rigging either.  Mellie had an affair of her own, if you watch the show carefully.  I'm still wondering if that baby belongs to Fitz.  But I digress.
Scandal is really about a talented and powerful business woman who runs her own crisis management agency.  And while she is at the top of her game when it comes to solving other people's problems, she doesn't have a clue when it comes to getting her romantic life together.  That's not so far-fetched, is it?
While I love Olivia and Mellie (the First Lady), seeing the smug look on Olivia's face as she once again chose to believe that she'd end up being Fitz's wife was a cautionary tale to mistresses everywhere.  Her plans foiled.  Reality smacked her in the face.  And she's moving on without Fitz…for the moment.
Let me know what you think!  Is Olivia Pope a complete turnoff for you?  Or are you a Scandal addict?  Do you think the Scandal backlash is real concern or folks with nothing more to complain about? What did you think of the finale?