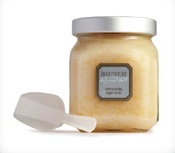 I begin this week rejuvenated from a wonderful weekend.  I had a blast.  Not only was it a long weekend, but I got to do quite a few of the things that I love to do: shop, bake and visit the salon.  First off I discovered a new store.  Blue Mercury is heaven for beauty junkies.  They sell everything from skin care to makeup and fragrance.  I was a kid in a candy store.  Some of the products I was familiar with and some were new to me.  I was especially impressed with Laura Mercier's Creme Brulee Sugar Scrub.  The scent is intoxicating.
If there is a Blue Mercury in your area, you can cross the other beauty stores Sephora's off your list.  Or better yet, leave them for your teenage nieces.  The entire layout of the store, makes the experience all the more delightful.  It's chic, organized and open, which makes it so much easier to find what you need and explore new products.  You can indulge your inner girlie girl without feeling like you've been transported to teeny bopper land.  Blue Mercury is definitely for the undeniably grown crowd and what's even better, they are having a sale September 19 with representatives from some of the top product lines.  Mark your calendar.
Speaking of sales, I was overjoyed to discover that a recent purchase at the mall was marked down to over 60 % off.  Ladies, when you have a nagging inkling to pull into the mall parking lot, listen.  It's not always a bad thing.  There are few things better than the sound of a cash register giving you credit.
While I was zipping, zooming and sitting in traffic this weekend, Maze provided the soundtrack for my adventures.  For those of you who don't know,Silky Soul Music An All-Star Tribute to Maze (featuring Frankie Beverly) was released a couple of weeks ago and it is amazing.  Some younger artist are covering Maze's classic hits.  Musiq Soulchild, Kem, Mary J. Blige, Joe, Avant and many more.  I love Avant's rendition of Joy and Pain and Mary J. delivers on Before I Let Go, but Joe makes Can't Get Over You his own.  For a preview of the CD, click here.
All in all, I want to thank everyone who helped add so much joy to my weekend.
My hair stylist for keeping me looking like the 9th girl to get kicked out of Destiny's Child.
The lovely ladies at Jin Soon Nail Spa, for a relaxing pedicure (best one I've had in a while) and the quarters I needed for the parking meter.  I'll share more about my experience there later.
The staff at Blue Mercury for their in-depth product knowledge and patience. For a locations listing and more info on their upcoming sale, click here.
Last but not least, Maze for making great music.  I'm telling you, If I had gotten in the Cha Cha or electric slide this weekend would have been perfect.
This week there will be a new feature at Rainy Day Diva.  Some of you may remember that I used to maintain a blog called The Office Novice, that mostly dealt with career and workplace issues.  That was before my beauty habit took over.  This week, I'll start incorporating some of those topics into Rainy Day Diva.  After all, we have to stay positive, prepared and beautiful in all facets of our lives–that includes our careers.    Recently I interviewed a reinvention expert.  I look forward to sharing her tips for reinventing your professional (and social life) with you.  So be sure to click your way back for a visit before the week is out.
Happy Tuesday!