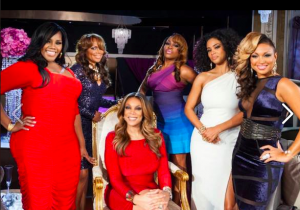 I caught R&B Divas LA reunion pt. 2 last night and it proved quite amusing.  I mean the pt. 1 reunion was so-so.  But last night they got into the full glory of what I call the female right of passage: she-say, he-say.  And holding center court was the queen of gossip and dysfunction, Ms. Wendy Williams.  Reunion shows and excessive bickering usually repel me, but I stayed tuned in because it is the first time I've seen reality show participants be so transparent.
Not only did they blame producers, they were quite upfront about what was said on and "off" camera.  I  kept thinking "are they allowed to tell us all this?"  I was afraid someone's contract was going to get cancelled.  And I love these ladies too much for that.  So here's a highlight of the parts that… got me. First of all Kelly's makeup.  Kelly's makeup.  Kelly's makeup!  I loved it.  I don't know who worked that magic but she looked absolutely gorgeous.  And whoever talked her out of that asymmetrical throwback hairstyle she'd been giving us — God bless you! Other than that, she didn't fess up to what we saw on camera.  Her story is that editing gets credit for that.
While no one can dispute that Wendy Williams is the best at being her, someone needed to tap her shoulder and let her know that the high note Chante hit does not belong to Mariah.  That IS Chante's note, when she sings it!  We don't give singer's their own notes, because if we did, it wouldn't be Mariah's, it would be Minnie Ripperton's. Get it right!
All of the ladies looked lovely, and I especially liked Claudette's look.  The gown, the homegrown hair —perfect!
Staying true to form, Lil Mo put it out there that she wants her own spin off show.  She gave us a range of emotions from squaring off with Kelly, to monologue memory tears and announced that the show's theme is also doubling as her new single, available on iTunes.  She is not shy!
Meanwhile, Michel'le recounted a disturbing experience of domestic violence.  After hearing that and watching her monologue, I can only offer a moment of silence for the woman she once was and root for her continued transformation personally and professionally.
Again, Dawn Robinson formerly of EnVogue and Lucy Pearl did not show up.  The social media grapevine is reporting that she's stating she had better things to do, her reputation, etc.  The reality is, I don't think her absence helped improve her reputation. That had been trashed long before the show.  But I respect her position.  *sigh*
I'm ready for someone to make the kind of reality shows I want to watch. Where talented, gorgeous women live robust lives, filled with adventure, new things, and actually create something that doesn't get mired down in competing for  who has the biggest Louboutin collection or most exotic weave.  Maybe R&B Divas LA is that show.  The monologues and a music tour aren't a bad start.  Yes, Kelly and Chante are going on tour with some other R&B Divas.  But I'll have to see season 2 before I make my final decision.
Did you catch the R&B Divas LA reunion?  What were your thoughts?