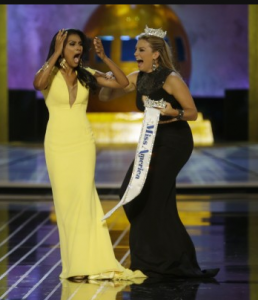 As much as I love pageants, I really don't watch the Miss America pageant the way I used to.  So I didn't see the crowning of Miss Nina Davuluri in real time on Sunday night.  So when I finally saw the first Miss America of Indian descent the first thing I thought is, "absolutely gorgeous"!  But while everyone seemed to be into the supposed "controversy" — as if your heritage and melanin levels can be a personal affront— my focus shifted in a different direction.  That yellow gown she was wearing was stunning!
I'm like, "that's it…that's the statement and punctuation for fall fashion."  It's not Crayola yellow, or "Caution" yellow, this is full feather canary.  I love it.  So I wanted to share a couple of other little yellow dresses I've web-spotted lately.  Maybe yellow is really the new black!
And speaking of Miss America, was her performance on point or what? See it here.
What's your "it" color for fall?