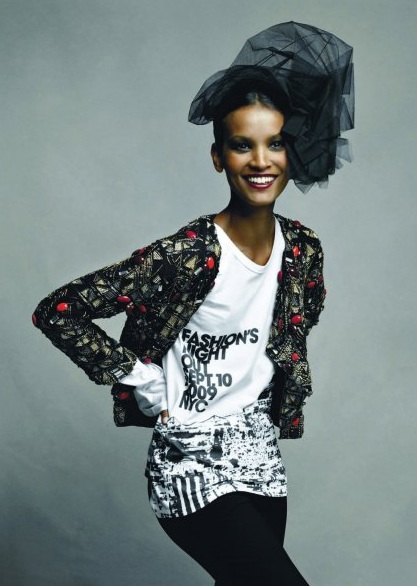 Last night was Fashion's Night Out, a global celebration of fashion, coordinated by Vogue magazine.  Retailers choose to participate and they have all sorts of special events in their stores.  So, being that I like to stay in the know, I was there in NYC last night having a date with fashion.  I had a blast.  In spite of the sky threatening to rain, there was a festive mood.  It was a fashion block party.  I didn't quite make it to Macy's to check out Rachel Roy's fashion show.  However, I did go to Tracy Reese's Plenty, where they had a makeup artist, hair stylist and manicurist to provide you with complimentary make overs.  There were bartenders making some quite tasty concoctions and a DJ.
I've always liked Reese's designs, but I hadn't actually been to her store.  It was a great introduction.  Check out a preview of her fall shoe collection and other pics below.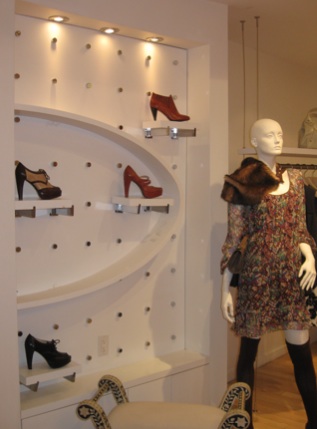 So in the spirit of trying something new, I received a mini makeover from a makeup line I was unfamiliar with–Tarte.  It's a natural makeup, environmentally  friendly.  I tried the Blush Stick.  Not bad!  So you know I had to ask about foundations for women  of color, and to my surprise they have them.  While their range of shades is somewhat limited, I liked the overall look.  I hear that their mascara is good, so I'll have to check it out and let you know.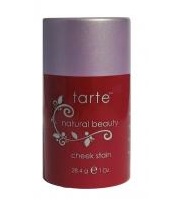 I also went to Charles Nolan.  Aahh!  Was I not in heaven?  I loved the design of his shop.  It had the feel of old world glamour.  I felt like a kid in a 1940′s starlet's boudoir and I wanted to play dress up.  He had stacks of books with Sinatra style or other fashionable subjects stacked at the end of sofas, exquisitely crafted perfume bottles, hats and pearls were on display.  The designs in the window were calling my name.  Not to mention he was serving the most darling cupcakes, couture cupcakes actually, by Lauren Elizabeth.  They were about as round as a quarter, but scrumptious.  You would not believe there were 3 women all slender, trying to decide if they could split that little cupcake.  I don't know who they think they were fooling.  I hope you can see these pics.
Finally, I have to tell you that I made it to Louboutin.  Yes! Yes! Yes! When I first saw the store, there was a velvet rope and there were people standing around outside, looking like they couldn't go in.  That's when I saw him.  Security.  The way they stood there looking desparate, I thought they had been refused entry.  The lights were red and low inside, I could hear the music.  I immediately began to wonder how much the cover charge was.  There was no cover.   I think they were just trying to give off a vibe or something.  Needless to say, once I got past security (nice guy) I did feel like I was in an exclusive club.  The shoes were out of this world gorgeous but it was so crowded.  You could not exhale without bumping into someone.  And some of the shoes were hard to get to.  It was standing room only.  There were the fashionable, the wannabes, the posers and me.  Since I couldn't get to the shoe I wanted, I pulled out the camera and just as I was snapping the shot, it happened.  Security.  "Miss, you can't do that here."
"But I was just…"
"No"
"I'm sorry, I…"
"Miss, please put the camera away."
So, the picture is a little blurry, but you can see what made me try, right?