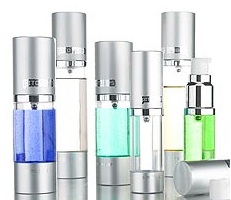 In just a few weeks, I'll be going on an international getaway.  I'm so excited, I have wanted to visit Africa for many years and I've finally got my ticket. Just the other day someone asked me if I had finished packing.  Finished?!  I haven't even started.  I am not one of those people that packs months in advance.  Is that really necessary?  Well, I got to thinking about it.  I suppose I do need to start taking inventory of what I'll need.  So here goes, and I'm hoping that if there's anything that any of you out there in Blog land can think of that might be useful, you'll press that comment button and share.
One of the first things that I plan to take are Pitotubes.  Those darling little bottles at the top of this post.  They are travel bottles and pumps (they also have jars) so that you can get all of your beauty survival and must-haves through security and on holiday.  This will save me from investing in unnecessary travel kits or traveling with large amounts of products.  What I like about Pitotubes is that they are sturdy and just holding them, I'm not worried about spills.  Peace of mind.  That's one thing I always want when I travel.  Now, I know I'll need some Skin So Soft by Avon, because it will be warm there and that means bug season.   And I don't need my experience to be quite that authentic.
I know I'll need a converter for all of my electrical items.  I'm also concerned about the hardware I'll need.  Yes, I'm in the market for a video camera and I'm not sure which one to get.  I've heard good things about the Kodak Zi8 as well as the Creative Vado.  If anyone out there has had experience with either, please share your story.  I really am hoping to get some amazing video.  So, this weekend will, I'll have to visit a few stores to start narrowing down my decision.  Let the packing begin!
Anyone else have plans for a getaway or travel tips they'd like to share?