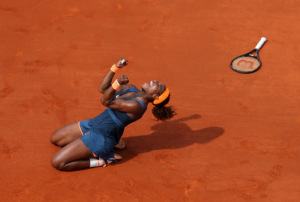 Ok, I'm not actually the winner, here.  But I was so proud of these ladies that I felt like I'd won.  Two of my favorite ladies (both are coaches/mentors in my head) won big this weekend.  First up, Serena Williams won the 2013 French Open.  She followed up her win with a victory speech that she gave in fluent French.

"I really believe age is a number at this point, because I have never felt so fit. I feel great. I look great." ~ Serena Williams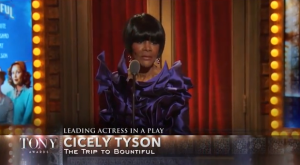 On Sunday, legendary actress, Cicely Tyson, won a Tony Award for best lead actress in The Trip To Bountiful. I wanted to leap when I heard the news. But I got really still for her acceptance speech. She was graceful, regal, and delivered a speech filled with gratitude and humor. The Trip To Bountiful is Tyson's first return to Broadway in 30 years. At the young age of 80, she is still winning. If you haven't seen The Trip To Bountiful, I've got good news — it's been extended to September.
Now when it comes to awards, honors and red carpets, most blogs are going to focus on gowns, makeup, and hairstyles.  You know, the Get-The-Look feature!  While I love that (you know I do).  Getting the look, and the recognition these ladies have, goes deeper than the external.  To experience this type of victory, you need dedication, perseverance, standards, determination, pluck, and tenacity.  You've got to do more than recite the poem.  You have to be a phenomenal woman.  That's what makes you a winner.
After this weekend, I'm going to dust off my Rosetta Stone French CD's and revisit some of those dreams I've put off. It is never too late! Don't give up. Believe. Go for it!
You can watch Cicely Tyson's acceptance speech below. To see the entire broadcast visit CBS.com.

Have you seen The Trip To Bountiful? What's your favorite Broadway Show?
Source: Espn.com, USAToday.com, TonyAwards.com