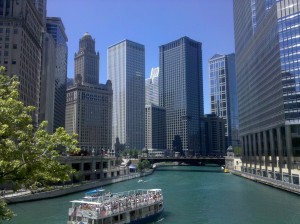 Recently, I had the chance to visit Chicago.  It was my first time visiting the windy city.  I was eager to sample the cuisine at the Taste of Chicago and stroll the magnificent mile, and maybe even have tea with Oprah (OK, I'm dreaming).  Short of afternoon tea with lady O, Chicago did not disappoint.  In all of my travels, it has been the best blend of big city and suburbs.  It has to be the cleanest big city I've ever seen.  I was more than impressed with Grant and Millennium park.  Excellent for outdoor activity-biking, running, and sight-seeing.  Having lived on the east coast all of my life, I was in awe of Lake Michigan.  I knew it was big but…whoa.  It just so happens that I had a hotel room with a lake view and it was absolutely amazing.
Since it was my first visit to Chicago, I wanted to do all of the tourist things which included a tour of the city on a double decker bus.  I was only on for a few stops before I was tempted to stroll the magnificent mile.  This was shopper's delight.   And wouldn't you know it, I discovered a new product. H2O+ is a product line of face and body care made from purified water.  Their Clear Water Bath Gel is featured in the July issue of Real Simple magazine.  It just so happens that they manufacture their products in Chicago.  Their products are available in H2O+ stores, online and as hotel amenities.  I can't resist a new product much less a sale, so before you know it, I had scooped up the salt and sugar scrubs.  Ultimately, I chose the sugar scrub and it left my hands incredibly smooth.  It has a very light refreshing scent which is welcome in warm temperatures.
After a bit of shopping, I hopped back on the tour bus and headed for Oprah's studios.  She's not taping this time of year, but it was well worth the trip, because it gave me a chance to check out her store.
The Oprah Store
sells practically any book, DVD or pajama shown on the Oprah show.  It was so much fun and they too, had a sale.  It was tempting to buy one of everything.  Fortunately, I was able to limit myself to just a few items.  After all, I still had more exploring to do, museums to visit and sight-seeing to do.
Thanks to the staff at the Hilton Towers for making my stay a memorable one.  This was my only my second stay at the Hilton and their service was definitely worth a mention.
For more about my Taste of Chicago weekend, click here.