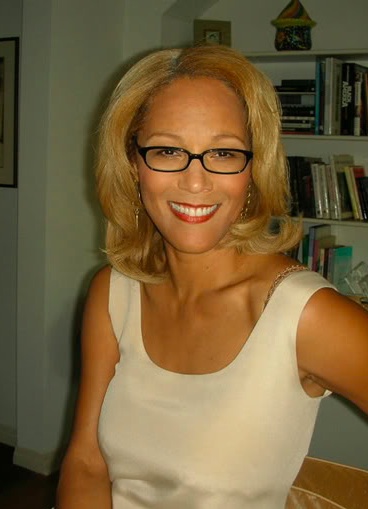 The fashion and beauty community is abuzz with excitement.  This time around it's not the fall trends or a new collection that has stylist, makeup artist and manicurist filled with anticipation.  In fact, it's not a what, it's who.  Crystal Wright-author, educator and motivational speaker-is holding one of her legendary bootcamps in New York, October 16 and 17, 2010.
I had the good fortune of hearing Wright speak at The Makeup Show this past spring. Her message and delivery were phenomenal.  Some speakers make you want to do better.  Wright makes you want to be better.  Not with a checklist or a set of rules, but better with every fiber of your being.  So I was completely stoked to score an interview with Ms. Wright about her upcoming bootcamp and a few other things. Here's what Ms. Wright had to say.
RDD: Having been a manicurist in my former career.  I realize now that I wasn't aware of a lot of opportunities within the industry.  Often, people don't know what they don't know. Why should someone attend your workshop?
CW: A lot of times people think that to take their career in the beauty or fashion industry, they need to be at the right event at the right time, meet the right celebrity and that their career will take off from there.  What I teach people is that there is no magic to success in this industry.  What takes people to that next level, to success is work.  Once you know the eight or nine steps to build a  successful portfolio, you'll begin to see a change.  This is the business of creativity.   You have to build your portfolio the same way you would a business.  You must build your portfolio the way you would a retail business-promote and advertise.
RDD:  Listening to you speak at The Makeup Show this past spring, what stood out to me is that your message seems to transcend industry.  I felt it was just as valuable for a stylist as it would be for an executive.  Was that your intention?
CW:  I've been told that before.  I was an account executive for Xerox at one time. Everything that I learned I learned at Xerox.  Negotiate, meet and introduce yourself. I learned how to go out and get an account.  The same principles apply to going out and getting work as a stylist or makeup artist.  You learn how to create a space for yourself.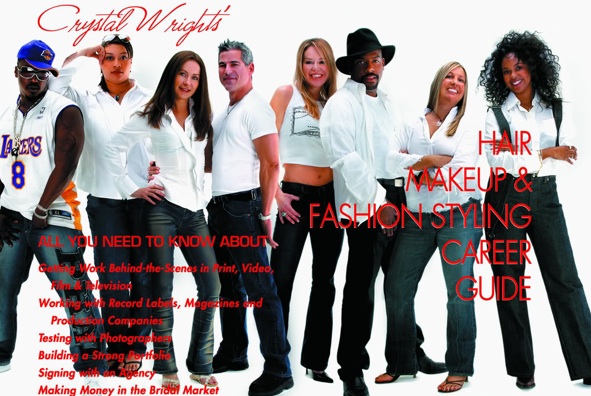 RDD: What you do now, educating and motivating people on how to navigate their way in this industry, is pretty much a job you created for yourself.  What advice would you give to others who dream of doing something different, getting out of their cubicles to pursue another career.
CW: The reason that a lot of people find that difficult is that they build it up in their heads that it is so impossible to achieve their dream until it becomes like a building looming over them.  It's so big to them.  When people leave my workshops, I give them 3 to 5 things they need to do to get started.  One key is to take the same approach to your dream as you do your corporate job.  Second is to get the people out of your head that tell you, you need a real job or that you'll never make any money doing what you love.
RDD: Some people are hesitant to pursue dreams after a certain age.  They have family, bills, perhaps they want to pursue a career in fashion but can't relocate to NY or LA.  What should they do?
CW:  I teach people how to be successful where they are.  Not everyone wants to be a celebrity stylist or live in Los Angeles.  I show people how to identify and pursue the opportunities in their area.  Many people don't realize that the majority of ad campaigns are done in Chicago for instance.  Not New York.  Not Los Angeles. People overlook the opportunities to work with local personalities and small businesses.  All of them need styling, makeup and manicurist as well.
RDD:  What is the one thing you want people who are considering a career in this industry or working towards a dream in any industry to know?
CW: Start thinking about what you want to do as a business. Think baby steps instead of one magical thing.  Take an action every day-there's always something to do. Familiarize yourself with who's in the industry and who you'd like to work with.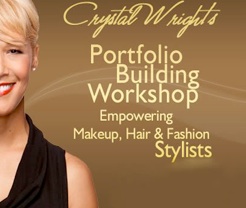 I must say that Crystal Wright's enthusiasm is contagious.  If you have a passion to work in the fashion and beauty industry or to pursue another industry, Crystal Wright can help you with direction and momentum.  She is like GPS for your career and following your dreams.  What's even cooler is that for Wright's upcoming workshop in NYC, she's offering a payment plan. There is a $300 deposit and an additional payment of $200 on the day of the class.  The remaining balance is paid monthly, and yes, she will allow you to skip December's payment.  You can't beat that offer. Fees for the class include materials and lunch.  For more information check out her site, here.  For words of wisdom and motivation check out Crystal's blog or follow her on twitter: @crystal_wright