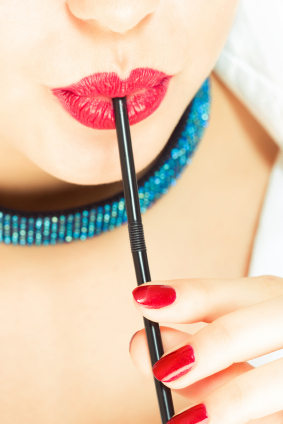 Some people want a little cream or sugar with their coffee.  Me personally, I prefer a straw.  That's right.  I've been giggled at in meetings and in car rides about drinking my coffee through a straw, but I never waiver.  The thing is, I hate dribbles on my clothes.  So it doesn't matter if it's coffee, tea, wine, or soda, I always request a straw.
Even in Paris, I found myself requesting a straw-language barrier and all.  I know, I know.  But hey, we were going to be taking candid photo shots all day and the last thing I needed was a photo album titled "Stains in Paris".
Fashion aside, there's another reason why you, too, should sip libations through a straw.  It helps keep those pearly whites, white. Drinking dark beverages (coffee, tea, colas, red wine) can leave your teeth stained.  Besides, don't you invest enough in bleaching and whitening products?  Not to mention, that some teeth whitening products may eventually strip away enamel, damaging your teeth and leaving you with a transparent appearance-not a good look.
So the next time you brew a cup of Joe, visit Starbucks, or have an iced tea, don't forget the straw.  Every little bit helps.  Your smile will thank you.